Lippert Components to Showcase Gold Circle Dealer Program at 2018 Ntp Stag Expo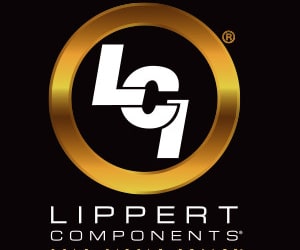 January 22, 2018
Elkhart, Ind. — Lippert Components, Inc. (LCI®) announced today that it will showcase several RV dealer profit programs as well as new products at the 2018 NTP-STAG Expo in Grapevine, Texas from January 22-23. LCI representatives will be on hand at booth #1919 and will offer dealers the opportunity to join the elite Gold Circle Dealer program, as well as learn more about LCI's 2018 merchandise offerings.
"We're excited to present dealers with our most innovative profit programs and to give them an inside look at what our Gold Circle Dealer program is all about. The Gold Circle Dealer lounge will be open at our booth #1919 during the show, and we'd like to invite all Gold Circle Dealers to stop by and pick up a copy of our 2018 merchandising catalog," said Mark Boessler, LCI's Vice President of Aftermarket Sales.
Featured in LCI's 1,000-square-foot booth will be new Solera® awning products as well as many of LCI's latest product advances. Visit LCI's booth to learn more about how LCI is able to offer pricing among the industry's best in awning hardware and accessories. LCI will also feature the Flow Max™ 12V fresh water pump. This water pump is designed to be ultra-dependable and quiet with speeds among the fastest in the industry and is a must-have product for the 2018 RV season.
All dealers are invited to visit LCI's booth during the show. For more information, visit www.lippertcomponents.com/aftermarket
Lippert Booth #1919
Show Hours:
Monday, January 22nd 4:00pm - 9:00pm
Tuesday, January 23rd 9:00am - 5:00pm
---
From over 140 manufacturing and distribution facilities located throughout North America, Africa and Europe, Lippert™ supplies a broad array of highly engineered components for the leading manufacturers of recreational vehicles, automobiles, watercraft and prefab homes. It also operates in adjacent markets, including hospitality, transportation, construction and agriculture. Lippert™ serves a wide range of aftermarket segments, providing high-quality products for the recreational vehicle / caravanning, automotive and marine industries. With over 12,500 team members and a diverse portfolio of best-in-class brands, Lippert™ adopts a team-based business philosophy and has proven that, by putting people first, the possibilities for growth and development are truly endless.
Lippert
52567 Independence Ct.
Elkhart, IN 46514
Email: marcom@lci1.com