Lippert Components to Showcase New Products and Offer Customer Support at Rvia Louisville National Trade Sho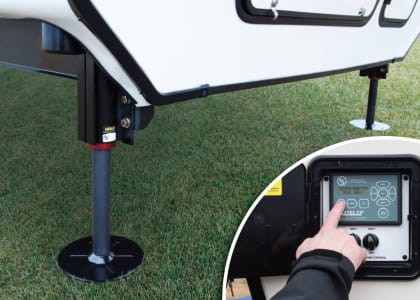 December 1, 2014
ELKHART, Ind. — Lippert Components, Inc. (LCI®) announced today that it will showcase several innovative new products and provide comprehensive customer support, including product training classes, at the RVIA National Trade Show in Louisville, Ky., from Dec. 2–4. LCI technicians will be on hand throughout the show to answer any product questions and receive customer feedback. Specifically, LCI will be leading product training from 11 a.m.–noon and 2–6 p.m. on Wednesday, Dec. 3; and 8 a.m.–noon on Thursday, Dec. 4.
LCI's new products include its myRV universal control and monitor system, Waste Master All-in-One Sewer Management System, Euro Loft bed lift system and Flex Air® pin box. "We've spent the year working closely with our customers, identifying their needs, and once again we've answered the call with innovative products," said Vice President of RV Sales Andy Murray. "We're bringing several new products to the Louisville show this year that we're especially excited about." Preview these new products at the show at North Hallway Atrium booth #245:
myRV universal control and monitor system allows users to remotely control many RV systems, including awnings, lights, slide-out rooms and bed lifts; and monitor inside temperature, tire pressure, battery levels and more all from an easy-to-use, touch-screen tablet. myRV also provides access to basic how-to videos, product videos, owner's manuals, additional RV lifestyle resources and the internet.
The Waste Master All-in-One Sewer Management System sewer hose and nozzle are connected to the RV holding tank outlet discharge pipe utilizing time-tested cam lock technology and secured in an under-chassis storage compartment. The tough Waste Master hose is designed with its helical coil on the outside, while the inside is smoother, preventing waste from getting trapped inside. The nozzle is molded with an easy-grip handle, an integrated shut-off valve and a clear view port that allows the user to see when waste has completely evacuated, helping ensure the tanks and hose are clean.
The nearly silent Euro Loft bed lift system is operated by a single motor that controls four support mounts to raise and lower the bed at 2.3 inches per second. The 800-pound capacity strap-based system can be customized in both size and configuration to fit almost any motorhome cab design. The system can even "bend" to conform to the curvature at the front of some motorhomes.
The Flex Air pin box combines LCI's time-tested Trailair® air ride technology with the Rota-Flex® pivoting head to create a comfortable ride by reducing chucking and the vertical tug-of-war between the fifth-wheel RV and tow vehicle, and by absorbing road shock and vibrations.
---
With over 120 manufacturing and distribution facilities located throughout North America and Europe, Lippert™ is a leading, global manufacturer and supplier of highly engineered components and customized solutions dedicated to shaping, growing, and bettering the RV, marine, automotive, commercial vehicle, and building products industries, and their adjacent markets. Lippert also serves a broad array of aftermarket industries, supplying best-in-class products designed to enhance recreational pursuits, both on the road and on the water. From powerful towing technology and automated RV leveling systems, to boating furniture and one-of-a-kind shade solutions — Lippert combines strategic manufacturing capabilities with the power of our winning team culture to deliver unrivaled Customer Service, award-winning Innovation, and premium Products to every industry and person we serve.
Lippert
3501 County Road 6 East
Elkhart, IN 46514
Email: marcom@lci1.com