Lippert Components to Showcase New Products and Offer Customer Support at Rvia Louisville National Trade Show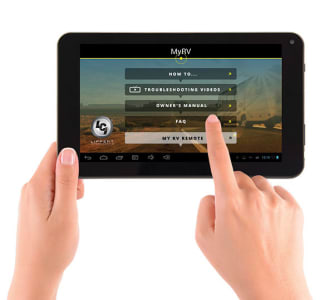 November 25, 2015
Elkhart, Ind. — Lippert Components, Inc. (LCI®) announced today that it will showcase several innovative new products and provide comprehensive customer support, including product training classes, at the 2015 RVIA National Trade Show in Louisville, Ky., from December 1-3. LCI technicians will be on hand throughout the show to answer any product questions and receive customer feedback. Specifically, LCI will be leading product training from 9:30 a.m. – 2:30 p.m. on Wednesday, December 2.
LCI's new products include its Ground Control® 3.0 TT automatic travel trailer electric leveling system, Level Up® Evolution™ hydraulic leveling system, Solera® Awnings and accessories, Keyed Alike lock system, OneControl™ mobile application, Sway Command™, and Furrion® electronics. "We've spent the year working closely with our customers to develop RV components and accessories that will enhance the mobile lifestyle for their customers," said Vice President of Sales Andy Murray. "We're bringing several new products to the Louisville show this year
that we're especially excited about."
Preview these new products at the show at booth #245:
The one-touch automatic Ground Control 3.0 TT electric leveling system for travel trailer RVs combines a power tongue jack with four power jacks with feet that swing down and extend to level the trailer, then retract and flip up for compact storage during travel. Like LCI's popular Level Up and Ground Control 3.0 leveling systems for fifth-wheel RVs, this patent-pending travel trailer leveling system saves users time and energy by quickly leveling and stabilizing the RV and features an automatic re-hitch memory function that remembers the exact height at which the trailer was unhitched.
The one-touch automatic Level Up Evolution system levels and stabilizes a fifth-wheel RV approximately 30 percent faster than other systems on the market and features innovative new jack technology with self-contained hydraulics. This system is easy to install with no complicated hoses, fittings or external valves, and features automatic re-hitch memory function that remembers the exact height at which the RV was unhitched.
The new Solera Awning line includes the Solera XL 9'8" extension power and hybrid awnings, and a new 9'8" extension Solera Destination Awning designed for extended-stay camping with a center ground support and Awnbrella™ rust-resistant aluminum bows to hold fabric taut and arched so rain runs off. The complete Solera line, including window awnings and Solera Slider slide-out awnings, now offers multiple vinyl and acrylic fabric colors, Solera Shield® fabric protection, custom hardware colors and new accessories including Solera Shades and Rooms.
The new Keyed Alike lock system allows a manufacturer to standardize each RV so just one key works with every door lock. The Keyed Alike system is available on LCI's complete line of RV entry, ramp and baggage doors.
New RV electronics include the OneControl mobile application and myRV® tablet that allows RVers to control RV functions from a smartphone or tablet; Sway Command tow control technology for travel trailer RVs, which uses advanced microprocessor technology to electronically detect trailer sway and apply the trailer brakes to suppress unwanted sway; and a premium Furrion brand backup camera designed and tested to meet the unique performance levels that the RV industry demands, including extreme travel vibrations and temperature variations.
Customers are also invited to a reception at booth #245 starting at 3 p.m. on Tuesday, December 1.
---
With over 120 manufacturing and distribution facilities located throughout North America and Europe, Lippert™ is a leading, global manufacturer and supplier of highly engineered components and customized solutions dedicated to shaping, growing, and bettering the RV, marine, automotive, commercial vehicle, and building products industries, and their adjacent markets. Lippert also serves a broad array of aftermarket industries, supplying best-in-class products designed to enhance recreational pursuits, both on the road and on the water. From powerful towing technology and automated RV leveling systems, to boating furniture and one-of-a-kind shade solutions — Lippert combines strategic manufacturing capabilities with the power of our winning team culture to deliver unrivaled Customer Service, award-winning Innovation, and premium Products to every industry and person we serve.
Lippert
3501 County Road 6 East
Elkhart, IN 46514
Email: marcom@lci1.com