Lippert Components to Showcase Rv Products at Caravan Salon 2014 in Dusseldorf Germany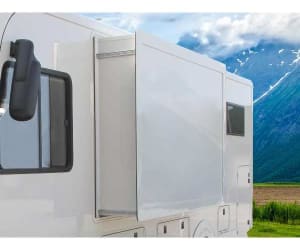 August 14, 2014
In September, LCI will be showcasing its RV products and collaborating with several key vendors at one of the largest caravan and motorhome shows in the world, the Caravan Salon 2014 show in Dusseldorf, Germany. LCI will debut its patented In-Wall® Slide-Out System on several European motorhome and caravan brands at the show. LCI also plans to display bonded windows and leveling systems.
"In the recent months, Larry Revelino and our operations teams have worked diligently to strengthen our international partnerships and show our potential customers that we are committed to their markets and supply needs," said LCI Chief Executive Officer Jason Lippert. "We've already initiated some new foundational relationships overseas and taken our core products to several potential customers. Our presence at the Dusseldorf show will help us pursue further growth and show our commitment to the European caravan and motorhome market."
In June, LCI announced that its new partner Coast to Coast Caravan & Leisure would be the exclusive distributor of LCI's In-Wall Slide-Out systems and other products in Australia and New Zealand. Also in June, the Company announced Shanghai Yixin Trading Co. Ltd. will distribute LCI RV and trailer products in China as an exclusive distributor to those markets. Shanghai Yixin Trading showcased LCI products for the first time at the "All in Caravanning" show at the Beijing Exhibition Center the same month.
Revelino says new relationships with international OEMs, distributors and suppliers have brought LCI a better understanding of international customers' values, product requirements and unique local dynamics. "We have interacted with new and existing customers on four continents and more than a dozen countries this year," said Revelino. "We have been present at five international trade shows thus far and gathered valuable feedback from hundreds of consumers and manufacturers about our extensive line of products. We feel there is potential for us to supply a wide range of products to these markets like we do in the United States."
LCI invites Caravan Salon 2014 attendees to visit its team at stand 13C95 in hall 13. The Company also has plans to display products at the Motorhome & Caravan Show in Birmingham, UK, in October, the China International Recreational Vehicles and Camping Exhibition 2014 in Shanghai, China, in December, and the CMT Holiday Exhibition Show in Stuttgart, Germany, January 2015.
---
From over 140 manufacturing and distribution facilities located throughout North America, Africa and Europe, Lippert™ supplies a broad array of highly engineered components for the leading manufacturers of recreational vehicles, automobiles, watercraft and prefab homes. It also operates in adjacent markets, including hospitality, transportation, construction and agriculture. Lippert™ serves a wide range of aftermarket segments, providing high-quality products for the recreational vehicle / caravanning, automotive and marine industries. With over 12,500 team members and a diverse portfolio of best-in-class brands, Lippert™ adopts a team-based business philosophy and has proven that, by putting people first, the possibilities for growth and development are truly endless.
Lippert
52567 Independence Ct.
Elkhart, IN 46514
Email: marcom@lci1.com