Lippert Components Unveils Digital Platinum Pontoon Furniture Configurator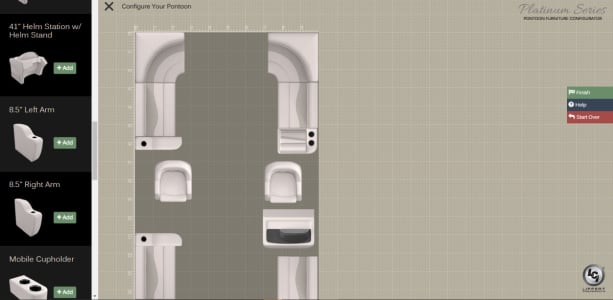 July 10, 2017
Elkhart, Ind. — Lippert Components, Inc. (LCI®) proudly introduces a new digital tool that makes designing the ideal floorplan for a specific size pontoon boat simple, accurate and customizable to the needs of the boater.
LCI's new Platinum Pontoon Furniture Configurator features LCI's Platinum Series Replacement Pontoon Furniture, a collection of 20 unique pontoon furniture items including bench seating, helm stands, helm seats and more. The Platinum Pontoon Furniture Configurator provides a bird's-eye view floorplan and lets users drag, drop, and rotate items from the Platinum Series collection into a scaled model of their pontoon. With the ability to customize the configuration based on the pontoon's length and width, users can accurately and easily explore varying layouts and designs to develop the ideal design for how they will use their pontoon.
"We're very excited to have launched the Platinum Pontoon Furniture Configurator. It will be a broadly used tool to help our customers easily design and decide which furniture floorplans work best for them, and make the process of replacing older, worn out pontoon furniture so much smoother," commented Michele Goldsmith, LCI's Marine Segment Director.
Once a user has completed their configuration, they can download their selections as a PDF file, complete with part numbers, color selections, quantities, and detailed descriptions of their product choices. The downloadable PDF serves as a guide that customers can provide to the dealership of their choice for product inquiries and installation.
For more information, visit www.lci1.com/marine or contact Michele Goldsmith at mgoldsmith@lci1.com
---
From over 140 manufacturing and distribution facilities located throughout North America, Africa and Europe, Lippert™ supplies a broad array of highly engineered components for the leading manufacturers of recreational vehicles and prefab homes. It also operates in adjacent markets, including marine, bus, industrial vehicles and trains. Lippert™ also serves a wide range of aftermarket segments, providing high quality products for the caravanning, automotive and marine industries. With over 15,000 team members, and a diverse portfolio of best-in-class brands, Lippert™ adopts a team-based business philosophy and has proven that, by putting people first, the possibilities for growth and development are truly endless.
Lippert
52567 Independence Ct.
Elkhart, IN 46514
Email: marcom@lci1.com