Lippert Components Unveils Latest Entry Door Product the Screen Defender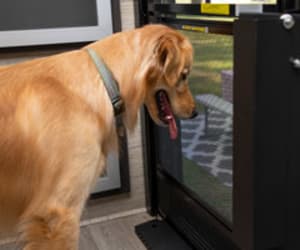 October 17, 2019
Elkhart, Ind. — Lippert Components, Inc. (LCI®) announces today that it has unveiled one of its newest products for the recreational vehicle (RV) market, the Screen Defender. The Screen Defender helps protect RV screen doors by adding an extra layer of protection over the existing screen door.
The Screen Defender is a black powder-coated, aluminum screen, constructed with the same materials as the entry door frame. The Screen Defender is designed to fit and lock into existing extrusion channels on the RV's existing screen door. Available to both OEMs and the aftermarket, the Screen Defender is compatible with LCI's full line of entry doors made for travel trailers and fifth-wheels, as well as for motorized doors on motorhomes.
"Truly, one of our biggest inspirations for the Screen Defender was pets. Over the past few years, we've seen an increase in demand, from both consumers and OEM partners, to offer pet-friendly accessories. Animal lovers often take their pets along on their RV adventures, and we want to offer products that encourage that," said Scott McKinnon, Product Manager at LCI. Continued McKinnon, "The Screen Defender provides extra protection and peace of mind for RV owners and helps prevent excited pets from taking the screen door with them at the sight of a squirrel."
LCI continues to bring innovative and fresh RV components to market. Over the last two years, the Company has introduced several brand-new entry door components such as Screen Shot®, an automatic screen door closure device, and Euro Latch, a sleek, European-inspired entry door handle with a vertical grab.
The Screen Defender is available in multiple sizes, and dimensions are based off of the RV screen door opening size, typically identified with a decal on all manufactured LCI doors.
For more information on the Screen Defender, visit https://www.lci1.com
---
From over 140 manufacturing and distribution facilities located throughout North America, Africa and Europe, Lippert™ supplies a broad array of highly engineered components for the leading manufacturers of recreational vehicles, automobiles, watercraft and prefab homes. It also operates in adjacent markets, including hospitality, transportation, construction and agriculture. Lippert™ serves a wide range of aftermarket segments, providing high-quality products for the recreational vehicle / caravanning, automotive and marine industries. With over 12,500 team members and a diverse portfolio of best-in-class brands, Lippert™ adopts a team-based business philosophy and has proven that, by putting people first, the possibilities for growth and development are truly endless.
Lippert
52567 Independence Ct.
Elkhart, IN 46514
Email: marcom@lci1.com