Lippert Components Unveils New Weatherproof Ramp Door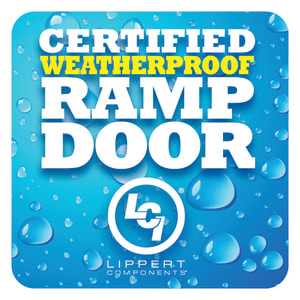 August 21, 2020
Elkhart, Ind. — Lippert Components, Inc. (LCI®) is proud to debut its new water-resistant, weatherproof ramp door for RV Toy Haulers.
The LCI weatherproof ramp door was developed as an effective solution for when ramps are exposed to extreme weather and downpours. Its interior components do not retain water and were designed to channel out any rain that gets inside, so moisture does not get locked in and lead to long term damage to the ramp. With more than a decade of experience in the Toy Hauler ramp door market, LCI continues to improve its materials with strength and resilience at the forefront.
In the past, ramp doors that utilized older technology would retain water and hold moisture that would remain there for nearly the entire lifespan of the ramp. The LCI weatherproof ramp door was engineered to release any moisture that penetrates the ramp after it has been exposed to harsh elements, so water hits it and dissipates quickly. Its components drive water to disperse and run right off so the core is never affected, ultimately preserving the ramp in the long run. With the LCI weatherproof ramp door, RV ramps will become resistant to undesirable precipitation that could cause considerable damage over time.
LCI engineers and product managers have worked diligently over the past few years to produce a ramp door that does what no other has. They were able to formulate a core that contains an ideal combination of components without using any materials inside that could potentially wick or retain moisture. Not only did they focus on developing a product that gives end users peace of mind when wet weather hits, but they also made sure it is economical and affordable while still utilizing top-grade materials.
"Finding that common ground was certainly an extensive process," said Scott McKinnon, Lamination and Awning Product Manager. "But once we reached a point where we incorporated everything necessary to make this ramp door stand out from the rest, we knew that it would be an extraordinary asset for all consumers to protect their RV ramps from the rain."
LCI leaders had a goal of producing an industry-first, top tier ramp door that addressed the needs of end users while improving overall value. In addition to repelling water and moisture, the LCI weatherproof ramp door also enhances the rigidity of the ramp as an added feature.
McKinnon continued, "We knew that this was something that the end user had been calling for, and that's why we put so much effort into it. We had an objective of being the first to come out with a weatherproof ramp door while considering consumer demands, and with those motives, we have arrived at a solid product that will provide maximum protection and improved performance."
---
With over 120 manufacturing and distribution facilities located throughout North America and Europe, Lippert™ is a leading, global manufacturer and supplier of highly engineered components and customized solutions dedicated to shaping, growing, and bettering the RV, marine, automotive, commercial vehicle, and building products industries, and their adjacent markets. Lippert also serves a broad array of aftermarket industries, supplying best-in-class products designed to enhance recreational pursuits, both on the road and on the water. From powerful towing technology and automated RV leveling systems, to boating furniture and one-of-a-kind shade solutions — Lippert combines strategic manufacturing capabilities with the power of our winning team culture to deliver unrivaled Customer Service, award-winning Innovation, and premium Products to every industry and person we serve.
Lippert
3501 County Road 6 East
Elkhart, IN 46514
Email: marcom@lci1.com