Lippert Components Unveils Next Generation Patio Wall Armor System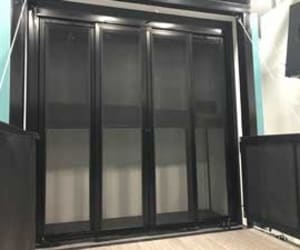 December 10, 2018
Elkhart, Ind. — Lippert Components, Inc. (LCI®) has introduced the Patio Wall Armor system to its line of toy hauler products for Original Equipment Manufacturers (OEMs). Patio Wall Armor is a three-season patio wall system for toy haulers, designed to enclose and secure the unit's ramp garage patio area.
The Patio Wall Armor system installs at the end of the toy hauler cargo area, adding privacy to the toy hauler's garage space, enclosing and creating additional living space. This second-generation product features interior latches for improved safety and security and to further enhance security and comfort. LCI has added G 20 tempered glass sliding window panels as an option. The system's sliding glass panels are similar to sliding glass panels found on residential screen doors, allowing owners flexibility to either create protection from the elements or to create a fully open space to expose the system's integrated screens, allowing a cool breeze to permeate the room.
Additionally, LCI has added a secondary Z-glide track at the top of the doors. The Z-glide track works in conjunction with the roller bearing glide tracks at the bottom of the doors, promoting a true gliding motion that brings the doors together evenly in the center of the opening every time. The new Patio Wall Armor system also features LCI's patent pending easily removable door system, allowing the end user to remove the doors completely when extra clearance is needed in the garage area.
"The older system served our customers well for a number of years, but with changing times and changing markets, we always gather feedback on all of our existing products for future product improvements. This allows us to bring the best products to market, products that our customers are asking for, and this product was no exception," commented Scott McKinnon, Product Manager at LCI. "Customers wanted a more secure, stronger patio wall system along with the option of the removable doors."
For more information about Patio Wall Armor, contact Scott McKinnon at smckinnon@lci1.com
---
With over 120 manufacturing and distribution facilities located throughout North America and EMEA, Lippert is a leading global manufacturer and supplier of highly engineered components and customized solutions dedicated to shaping, growing and bettering the RV, marine, automotive, commercial vehicle and building products industries and their adjacent markets. Lippert also serves a broad array of aftermarket industries, supplying best-in-class products designed to enhance recreational pursuits, both on the road and on the water. From powerful towing technology and automated RV leveling systems to boating furniture and one-of-a-kind shade solutions, Lippert combines strategic manufacturing capabilities with the power of our winning team culture to deliver unrivaled customer service, award-winning innovation, and premium products to every industry and person we serve.
Lippert
52567 Independence Ct.
Elkhart, IN 46514
Email: marcom@lci1.com