Lippert Components Volunteers 100000 Hours of Community Service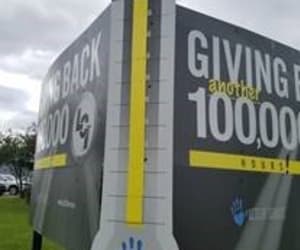 November 15, 2018
Elkhart, Ind. — Lippert Components, Inc. (LCI®) announces that it has completed a 2018 social responsibility initiative. Through Acts of Service, the Company collectively completed 100,000 hours of community service. The company-wide initiative was officially achieved on October 23, 2018, more than two months ahead of schedule. LCI would like to thank its more than 10,000 team members for their critical role in achieving the community outreach goal.
Spearheaded by LCI's Executive Leadership Team as one of the Company's 2017 core objectives, LCI team members have committed to volunteering their time to various causes and organizations throughout the past two years. Led by Director of Philanthropic Partnerships, Michilah Grimes, the yearlong initiative impacted communities in 16 different states and more than 1,000 organizations. Grimes, who plays a key leadership role in organizing and directing the Company initiative, is thankful for the support of LCI and its many team members.
"What began as a call to action to become more involved within our communities has grown into an incredible effort supported by the thousands of team members who believe in the power of community outreach," said Grimes. "I'm so proud of each and every team member. The 100,000 Hours of Community Service initiative is something that we've all embraced and it really has become a rallying point, something we all see tremendous value in."
The initiative was a major effort to give back to the communities in which the Company's team members live, work and play. To accomplish the goal, LCI and Acts of Service partnered with local nonprofits, school systems and community leaders to drive home the importance of community involvement to its team members. Through this effort, LCI hoped to not only inspire its own team members, but also hoped the initiative would inspire others within the community.
LCI volunteers teamed up with the Kelly Cares Foundation in support of the 2018 GameDay Chase 5K Run & Family Fun Walk. Paqui Kelly, Co-Founder of the Kelly Cares Organization said, "The support of LCI's Acts of Service volunteers this fall was invaluable. They stuffed thousands of bags, set up dozens of tables and banners, and best of all, they had smiles on their faces the entire time. They knocked it out of the park!"
Throughout the year, LCI team members have supported a myriad of nonprofit organizations and community-oriented causes. LCI team members from its facilities in Canada, Ireland, and United Kingdom also contributed to reach this goal.
"Volunteering is important to me because it's such an easy way to make a big impact. I have met so many awesome people, from LCI and within the community, and even the children we help through The Villages. I really take to heart the time we put towards the volunteer hours because I get to see the smiles and impact firsthand," said Kara Daniels, LCI Plant 85.
For more information, visit www.actsofservice.com
---
From over 140 manufacturing and distribution facilities located throughout North America, Africa and Europe, Lippert™ supplies a broad array of highly engineered components for the leading manufacturers of recreational vehicles, automobiles, watercraft and prefab homes. It also operates in adjacent markets, including hospitality, transportation, construction and agriculture. Lippert™ serves a wide range of aftermarket segments, providing high-quality products for the recreational vehicle / caravanning, automotive and marine industries. With over 12,500 team members and a diverse portfolio of best-in-class brands, Lippert™ adopts a team-based business philosophy and has proven that, by putting people first, the possibilities for growth and development are truly endless.
Lippert
52567 Independence Ct.
Elkhart, IN 46514
Email: marcom@lci1.com