Lippert Components Will No Longer Exclusively Distribute Hsm Rv Steps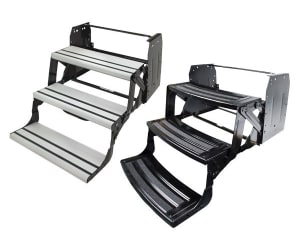 March 15, 2016
Elkhart, IN — Lippert Components, Inc. (LCI®) will no longer exclusively distribute RV steps manufactured by HSM Transportation Solutions, formerly Hickory Springs Manufacturing. LCI is in the process of notifying and changing over its OEM customer base from the Hickory Step to its own brand of manual steel radius steps and its popular hybrid aluminum Alumi-Tread Step®, which is already standard on many RV brands.
LCI's Chief Executive Officer Jason Lippert does not expect any adverse impact for its customer base going forward. "In the end, we believe this move better serves our OEM and aftermarket customers," said Jason. "We want to make sure that LCI can continue to grow and innovate at the rapid pace that the industry is known for."
LCI Vice President of RV Sales Andy Murray says this development makes the company more nimble to address industry needs. "By no longer being tied to an exclusive agreement, we believe we can respond more quickly to customer requirements," said Murray. "Our Alumi-Tread Step is a great example of this – customers requested a more attractive entry step at a competitive price, and we were able to quickly develop and launch the product. Our rapid innovation has always been one of our strengths as a company, and this change frees us up to focus more on customer satisfaction."
For information, manufacturers can contact Brian Hess at bhess@lci1.com. Aftermarket dealers, retailers and distributers can contact aftermarketsales@lci1.com for more information.
---
From over 140 manufacturing and distribution facilities located throughout North America, Africa and Europe, Lippert™ supplies a broad array of highly engineered components for the leading manufacturers of recreational vehicles, automobiles, watercraft and prefab homes. It also operates in adjacent markets, including hospitality, transportation, construction and agriculture. Lippert™ serves a wide range of aftermarket segments, providing high-quality products for the recreational vehicle / caravanning, automotive and marine industries. With over 12,500 team members and a diverse portfolio of best-in-class brands, Lippert™ adopts a team-based business philosophy and has proven that, by putting people first, the possibilities for growth and development are truly endless.
Lippert
52567 Independence Ct.
Elkhart, IN 46514
Email: marcom@lci1.com