Lippert Components Wins European Innovation Award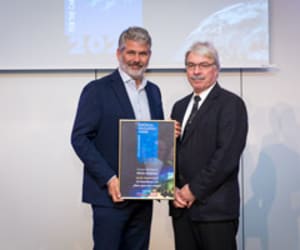 January 29, 2020
San Casciano, Italy — Lippert Components, Inc. (LCI®) announces that its new slide-out system, the Smart Room 2.0, has won the prestigious European Innovation Award 2020 in the Vehicle Equipment category at the Caravanning, Motor and Tourism (CMT) show in Stuttgart, Germany.
Now in its tenth year, the European Innovation Award 2020 was delivered during the CMT awards ceremony in Stuttgart, Europe's second-largest caravan show. LCI's Smart Room 2.0 slide-out system was selected by the show's jury, consisting of independent journalists from 18 European magazines specializing in the RV sector.
"We are proud to have won this significant award. Our Smart Room 2.0 allows the user to reduce the size of the vehicle, and therefore its weight, offering added interior living space only when it is needed. The Smart Room 2.0 is developed and manufactured in Italy, and it is designed for European vehicles," said Michele Checcucci, CEO of LCI, RV Europe. "When the caravan layout is designed at its origin to incorporate our slide-out system, the vehicle can be shorter and have more than two square meters of extra space, but with less weight per square meter."
Designed and engineered specifically for the European caravan market, the Smart Room 2.0 is assembled with the aid of special machinery able to standardize production and to maintain a consistently high level of quality. The Smart Room 2.0 is available in two versions: the premium version features an independent engine for every single corner, while the entry level version uses a single engine to control the two corners simultaneously by way of a system of shafts and gears. Both versions feature a new electronic control unit concept designed and manufactured entirely by Lippert Components in Italy.
The new design also introduces further improvements. A double seal offers extraordinary water tightness, and a second gasket also provides an additional leaf, sand, or powder barrier. The mechanism is now completely hidden, a factor that improves the design of the slide-out. Aesthetically and aerodynamically, the Smart Room 2.0 features the perfect alignment of the closed Smart Room with the wall of the vehicle resulting in no protrusion or noticeable recess, giving the wall a flush look.
---
From over 140 manufacturing and distribution facilities located throughout North America, Africa and Europe, Lippert™ supplies a broad array of highly engineered components for the leading manufacturers of recreational vehicles, automobiles, watercraft and prefab homes. It also operates in adjacent markets, including hospitality, transportation, construction and agriculture. Lippert™ serves a wide range of aftermarket segments, providing high-quality products for the recreational vehicle / caravanning, automotive and marine industries. With over 12,500 team members and a diverse portfolio of best-in-class brands, Lippert™ adopts a team-based business philosophy and has proven that, by putting people first, the possibilities for growth and development are truly endless.
Lippert
52567 Independence Ct.
Elkhart, IN 46514
Email: marcom@lci1.com