Lippert Expands Its Regional Operations Management Team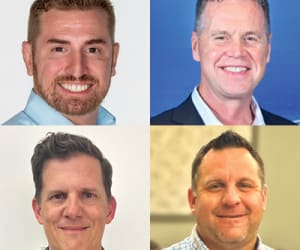 January 25, 2023
Elkhart, Ind. — Lippert Components, Inc. (Lippert™), a supplier of a broad array of highly engineered components for the leading original equipment manufacturers ("OEMs") in the recreation and transportation product markets, and the related aftermarkets of those industries, announced today the promotion of four team members to Regional Operations Manager with the goal of providing additional support to the organization faced with continued growth.
Expanding the Regional Management Team gives more focus to an ever-growing operational facility footprint and supports organizational initiatives. They join the existing Regional Operations Management team of Toby Crowley, Mike Meade and Don Zirkelbach.
"As Lippert's operational footprint continues to grow, it is integral that we expand our Regional Operations Team in order to better service our customers and our valuable team members coast to coast," said Ryan Smith, Group President of Lippert's North American OEM Operations. "Our road map for this organization has never been to sit still. We will continue to push into more markets and pursue new business opportunities. Implementing this new Regional Operation Manager footprint will allow us to give a renewed focus and prepare for the growth that lies ahead."
The promoted team members include Brian Edwards, Matt Ehlschide, Scott Mantyla and Steve Slowke.
Brian Edwards
Brian Edwards is a native of Beach Grove, Indiana, and attended Indiana University in Bloomington. Brian started his career at Lippert in 2009 as a Quality Auditor at plant 227, working his way into several managerial roles, most recently the General Manager of Plant 227. He will now serve as the Regional Operations Manager over all hydraulics and marine windshield facilities.
"I am excited and grateful for this opportunity," said Brian. "I am looking forward to continue to my personal growth and development journey, the ability to influence and develop other leaders and to help continue to build upon an already great culture that has been established over the years."
"Brian has built his share of the business up by developing his leaders with clarity of direction and permission to grow into their respective assignments," said John Ries, VP of Operations. "He has a vision to create operational leadership incubators through the business units he oversees."
Matt Ehlschide
A native of Greenville, Kentucky, Matt earned his BS in Biology & Chemistry from Western Kentucky University and his MBA from the University of Tennessee. Matt came to Lippert in 2020, serving as General Manager over Plants 57 and 84. He will now serve as Regional Operations Manager over several of Lippert's West Coast operations.
"Lippert is a progressive and dynamic company that I am blessed to be a small part of," said Matt. "Working in an organization that aligns with your personal and professional values is something that most people don't get to experience, and I'm genuinely grateful for the opportunity. I'm really excited to further develop the business and culture that we've worked hard to establish over the last 2-3 years."
"Matt's diverse experience and excellent team building skills will continue to strengthen our footprint in our West Coast operations," said Mark Taylor, VP of Operations. "Matt will be an extension of our Elkhart, Indiana operations and will continue to raise the bar of a great Lippert experience to our team members and customers out West."
Scott Mantyla
Scott Mantyla is a native of Lansing, Michigan, and joined Lippert in 2006 as a management trainee at Plant 45. Scott has served in many managerial roles over the years, most recently as the General Manager for 50W and 261W. Scott's new role will be Regional Operations Manager over Furrion and RV furniture distribution.
"I want to thank the leadership here at Lippert for trusting me with this promotion," said Scott. "I learned early in my career that building teams is crucial to the success of the business, and when you assemble a team of great people and are intentional about investing time into those people to support their growth, it always works out for the best. I am excited to learn about everything that goes on behind the scenes and even more excited to combine the WAY and Furrion teams and facilities into one great operation."
"Scott's leadership and proven performance in our industry makes him a perfect fit for his new role," said Mark Taylor, VP of Operations. "Scott will continue to work closely with our sales and operations teams to deliver best in class products to our customers, while meeting the ever-changing needs of our industry."
Steve Slowke
Steve Slowke, a native of Detroit, Michigan, earned his BA in Business Administration from Alma College in 2003. Steve has served as General Manager over several chassis divisions since joining Lippert in 2003 as an LIT, with his most recent position being GM over the Plant 19 chassis complex. Steve will now serve as Regional Operations Manager over RV chassis production in Indiana.
"I am honored and humbled to be given this opportunity with Lippert," said Steve. "Thanks to all the leaders that have helped guide me over the years. I would not be here today without them, and I hope to make the same difference in others' careers like they made with my own. I'm excited to make a difference with Lippert at a much larger scale. I am looking forward to getting a better understanding of these plants and building solid relationships."
"Steve is an exceptional leader and coach, constantly challenging his teams to grow and improve both personally and professionally," said Matt Moreland, VP of Operations. "As a result, he has a team of some of the best operations leaders in the business, and they deliver the results to prove it. Steve has been a great friend and partner in building our Goshen chassis division into what it is today. I am very confident that he will continue build great teams and deliver exceptional results in this expanded role."
---
With over 120 manufacturing and distribution facilities located throughout North America and EMEA, Lippert is a leading global manufacturer and supplier of highly engineered components and customized solutions dedicated to shaping, growing and bettering the RV, marine, automotive, commercial vehicle and building products industries and their adjacent markets. Lippert also serves a broad array of aftermarket industries, supplying best-in-class products designed to enhance recreational pursuits, both on the road and on the water. From powerful towing technology and automated RV leveling systems to boating furniture and one-of-a-kind shade solutions, Lippert combines strategic manufacturing capabilities with the power of our winning team culture to deliver unrivaled customer service, award-winning innovation, and premium products to every industry and person we serve.
Lippert
52567 Independence Ct.
Elkhart, IN 46514
Email: marcom@lci1.com