Lippert Introduces Automated Shade Systems to a New Sector of Boats with the SureShade PTX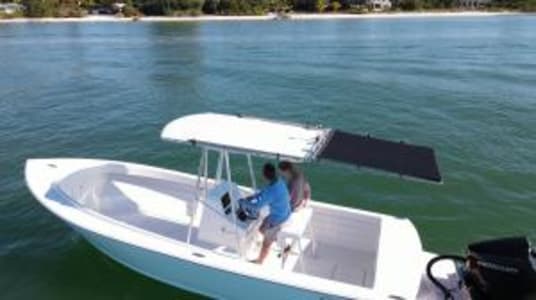 July 22, 2021
Elkhart, Ind. — Lippert Components, Inc. (Lippert™) is excited to debut its new SureShade® PTX Power Shade to the boating and marine industry. The PTX, specifically designed for boats from 18' - 26', is the latest addition to the high-quality family of automated and manual telescoping shade systems offered by SureShade.
The PTX Power Shade features stainless steel linear actuators and a universal design that can easily be installed on aftermarket hardtops or T-Top tubes. It can also be integrated by boat builders at the factory during production. The shade itself is powered by two 12V DC, 1.375" actuators using an included rocker switch, so no programming is required to operate it. The embedded motors propel the shade to extend nearly five feet in less than 30 seconds, providing a quick and efficient extension and retraction process.
In addition to its swift performance, the PTX Power Shade is silently operated with an anti-racking design and auto shut-off feature. It comes in four standard, fade-resistant canvas colors with an integrated canvas boot for easy storage and four standard widths to fit boats from 52.5" to 75" wide. The PTX Power Shade comes with marine-grade aluminum and stainless steel finish options for an ideal complement to any boat it is used with.
"The PTX Power Shade is a great new option for boaters wanting an easy-to-install shade for an incredibly competitive price," stated Bill Michel, SureShade Managing Director. "This will legitimately extend the amount of boating time for a size class of boats where shade area has always truly been at a premium and 'competing' systems have been cumbersome."
"The PTX Power Shade is immediately available to local boat dealers or service centers," confirmed Ryan Albers, Lippert Sales Director. "For more information, contact your local retailer, take a look at the video, or visit the product page."
---
With over 120 manufacturing and distribution facilities located throughout North America and Europe, Lippert™ is a leading, global manufacturer and supplier of highly engineered components and customized solutions dedicated to shaping, growing, and bettering the RV, marine, automotive, commercial vehicle, and building products industries, and their adjacent markets. Lippert also serves a broad array of aftermarket industries, supplying best-in-class products designed to enhance recreational pursuits, both on the road and on the water. From powerful towing technology and automated RV leveling systems, to boating furniture and one-of-a-kind shade solutions — Lippert combines strategic manufacturing capabilities with the power of our winning team culture to deliver unrivaled Customer Service, award-winning Innovation, and premium Products to every industry and person we serve.
Lippert
3501 County Road 6 East
Elkhart, IN 46514
Email: marcom@lci1.com