Lippert Introduces New Trailer Anti-Lock Braking System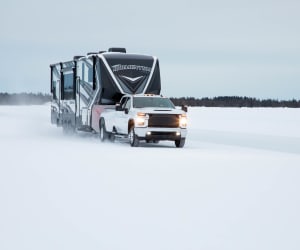 October 10, 2022
Elkhart, Ind. – Lippert Components, Inc. (Lippert™), a supplier of a broad array of highly engineered components for the leading original equipment manufacturers ("OEMs") in the recreation and transportation product markets, and the related aftermarkets of those industries, is proud to announce its all-new Anti-Lock Braking System (ABS), engineered and designed to fully integrate with the electric braking systems in Lippert's Spring Axle offering.
The Lippert ABS, tested exhaustedly over multiple grueling scenarios, was designed to deliver one of the most exceptional rides in the RV market today. With towing safety in mind, the Lippert ABS combines the technologies of Lippert's time-tested trailer axles with cutting edge connected RV systems, delivering a comprehensive safety mechanism for all trailer types, particularly travel trailers, fifth wheels, and cargo and equestrian trailers.
Developed to create a comprehensive RV safety solution, the Lippert ABS offers control and confidence unlike any other towing product. This integrated system works with the trailer's brakes to prevent wheel lock-up and enhance control over the vehicle-trailer combination, particularly in slippery or abrupt braking situations. When the driver encounters an emergency braking situation, instead of the trailer fishtailing off to one side and pulling the vehicle into a dangerous drift, the Lippert ABS system helps the driver maintain control, and assists in bringing the vehicle and trailer safely to a stop.
Created to promote exceptional towing safety and confidence, the ABS system features innovative towing technology that allows safer and smarter-than-ever hauling. "We are thrilled to be bringing proven automotive technology into our axle program to offer to the RV and Utility trailer markets," commented Andy Murray, Chief Sales Officer. "We are more focused than ever on developing products that are focused on providing a better user experience, and this product certainly checks that box."
The Lippert trailer ABS system is prepped to work with the OneControl® app, so it can be paired with the driver's phone to monitor speed, status, and more. The system also operates independently from the vehicle's brake controller. Whether a brake controller is installed or not – and whether it's a factory controller or aftermarket – Lippert ABS will function to keep the trailer wheels from locking up, and the non-intrusive system also will not interfere with the controller's gain settings.
"Our product development teams are continually raising the bar on safety and security products, and our new anti-lock brake system is one of the most exciting new products we have launched in this category of focus for Lippert," said Jason Lippert, President and CEO. Continued Lippert, "With the influx of new RVers due to the ongoing pandemic, we feel the need to offer more products like the ABS that will give these RVers a better and safer experience. A better towing experience will inevitably keep these RVers in the lifestyle for years to come."
For more information about the Anti-Lock Braking System, contact your Lippert Sales Representative. The Lippert Anti-Lock Braking System is not available for aftermarket installation at this time.
---
With over 120 manufacturing and distribution facilities located throughout North America and EMEA, Lippert is a leading global manufacturer and supplier of highly engineered components and customized solutions dedicated to shaping, growing and bettering the RV, marine, automotive, commercial vehicle and building products industries and their adjacent markets. Lippert also serves a broad array of aftermarket industries, supplying best-in-class products designed to enhance recreational pursuits, both on the road and on the water. From powerful towing technology and automated RV leveling systems to boating furniture and one-of-a-kind shade solutions, Lippert combines strategic manufacturing capabilities with the power of our winning team culture to deliver unrivaled customer service, award-winning innovation, and premium products to every industry and person we serve.
Lippert
52567 Independence Ct.
Elkhart, IN 46514
Email: marcom@lci1.com