Lippert Introduces Road Defense Powder Coating Technology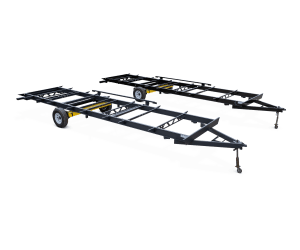 January 12, 2022
Elkhart, Ind. – Lippert Components, Inc. (Lippert™) announced today that it is upgrading the formula for all powder coatings on chassis out of the Goshen and Middlebury locations, which serves all of its OEM customers. The change comes as a result of two industry leaders, Lippert and AkzoNobel, collaborating to raise the bar in product performance and innovative manufacturing processes. The powder coating technology and performance is the best AkzoNobel has to offer, ultimately taking Lippert chassis products to new heights.
The Road Defense powder coating formula is designed to provide a more uniform density and give the chassis more protection against the elements. It has endured rigorous testing to ensure superior strength, durability and resistance to corrosion, fading, weathering, humidity and more. Additionally, on top of its ability to provide high-end protection, it features a sleek, modernized appearance.
There are a number of pivotal characteristics of the new powder coating that set it apart, including its texture instead of the traditional high-gloss black. Other key features and benefits include:
3x more resilient to salt spray and humidity
5x improved weathering for reduced fading and chalking
2x more resistant to chipping and cracking
4x more uniformed coverage for increased protection and performance
3x heavier coating for improved durability and reduced touch-ups
Enhanced cyclic corrosion score to withstand harsh weather environments
"Over the past few years, we have pushed to raise the bar on quality in all areas of our business, and this is yet another example of Lippert's dedication to that initiative," stated Marc Grimes, Senior Vice President of Product Strategy.
"It's exciting to take this step forward, improving our chassis with a high-quality coating that not only performs better in every way, but looks great, too," commented Matt Moreland, Regional Operations Manager. "It's just one more step in making the RV experience better."
The Road Defense chassis powder coating will initially be Indiana-based, and production will begin in early Q1.
---
From over 140 manufacturing and distribution facilities located throughout North America, Africa and Europe, Lippert™ supplies a broad array of highly engineered components for the leading manufacturers of recreational vehicles, automobiles, watercraft and prefab homes. It also operates in adjacent markets, including hospitality, transportation, construction and agriculture. Lippert™ serves a wide range of aftermarket segments, providing high-quality products for the recreational vehicle / caravanning, automotive and marine industries. With over 12,500 team members and a diverse portfolio of best-in-class brands, Lippert™ adopts a team-based business philosophy and has proven that, by putting people first, the possibilities for growth and development are truly endless.
Lippert
52567 Independence Ct.
Elkhart, IN 46514
Email: marcom@lci1.com