Lippert Introduces Taylor Made® KW Series Flagpole Mount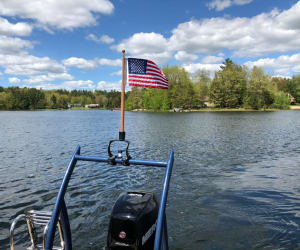 April 28, 2021
Elkhart, Ind. — Lippert Components, Inc. (Lippert™) is excited to introduce to the marine industry its new Taylor Made® KW Series Flagpole Mount in partnership with Ken Williamson, CEO of Platinum Global Sourcing, Inc.
The KW Series Flagpole Mount is the ultimate hassle-free device that can be used to give a boat a unique, personalized touch by allowing a flag to fly majestically. This mount clamps on to any round-tube tow bar, wake tower, tuna tower, railing, or other similar round-tube component in minutes, and its adjustable flagpole receptor allows for various pole sizes to be used, so it readily flies most marine flags. With its universal clamp-on design, it fits O.D. tow bar tube sizes 1.5", 2", and 2.5" and can be used with a 3/4", 1", or 1.25" O.D. flagpole. It can also be installed quickly and easily without having to drill any holes, minimizing the chance to cause accidental damage to the boat. Most impressively, this flagpole mount comes with everything needed to securely fasten it and does not require any DIY tools.
Along with providing the ability to flaunt a flag onboard, the KW Series Flagpole Mount can be used for a number of additional purposes, including a fishing rod holder, a bird deterrent holder when a boat is moored, or for spotlights, warning flags, or "skier down" flags. The mount and flag can also remain intact when pulling a skier or tuber, as its structure not only provides the strength to endure it, but its unique curved design allows the rope to swing to the side of the boat without touching the flagpole mount. With its solid build, users can enjoy countless water-related activities while knowing that their flag, or other object, is safe and secure.
"When my wife (Susan) and I bought our brand new pontoon boat, we couldn't wait to enhance its beauty with our favorite flag; and as I began my quest to find the perfect flagpole mount that would get the job done and enhance the overall aesthetic of my boat, I quickly realized how much of a need there was for something like this in the marine industry," stated Ken Williamson. "After searching high and low for the perfect mount, it was obvious that there wasn't anything like this available in the market. It became even more evident after I joined a Facebook group and saw countless requests by consumers all over the country inquiring about where to purchase a high-quality and classy-looking flagpole mount. There was clearly a problem that needed a resolution, and that is what motivated me to get started on this mount and bring it to life. After seeing many DIY flag mounts that, quite frankly, a majority of boat owners would never consider mounting on our boats, I knew I had a fantastic design that was much needed. Without question, we've resolved a major marine industry issue with this product."
The KW Series Flagpole Mount is crafted with superior construction and premium materials, including stainless steel screws that provide excellent durability. Two drain holes are part of the design and allow water to drain out, preventing potential mold and damage to the flagpoles. The high-grade materials and robust construction protect against damage from high speeds and wind, so boaters can take on every adventure confidently without having to question the strength and reliability of their flagpole mount.
"This product is so fun and exciting because, for the most part, there's not a boater in the world who doesn't want to fly a flag," Williamson continued. "But the thought of having to mount it on the port or starboard side of a boat drove me crazy because we all know they should be centered on the transom of your boat whenever possible. It's been enjoyable and challenging, but overall, the process for developing this mount has been rewarding. It started as a simple idea that grew into a vision and has allowed me to work on my R&D and engineering, collaborate with designers, and then proceed with prototyping and constantly making improvements for it to become a solid product. We are very proud of how it turned out and thrilled about the new partnership with Taylor Made and Lippert and look forward to the boundless opportunities this union will present in the years to come."
---
From over 140 manufacturing and distribution facilities located throughout North America, Africa and Europe, Lippert™ supplies a broad array of highly engineered components for the leading manufacturers of recreational vehicles, automobiles, watercraft and prefab homes. It also operates in adjacent markets, including hospitality, transportation, construction and agriculture. Lippert™ serves a wide range of aftermarket segments, providing high-quality products for the recreational vehicle / caravanning, automotive and marine industries. With over 12,500 team members and a diverse portfolio of best-in-class brands, Lippert™ adopts a team-based business philosophy and has proven that, by putting people first, the possibilities for growth and development are truly endless.
Lippert
52567 Independence Ct.
Elkhart, IN 46514
Email: marcom@lci1.com