Lippert Launches Wellbeing Program to Encourage Healthy Lifestyles for Team Members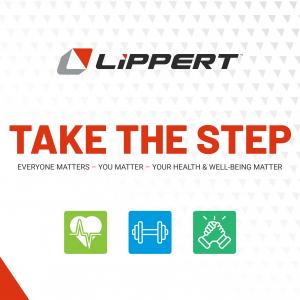 March 1, 2021
Elkhart, Ind. — Lippert Components, Inc. (Lippert™) is proud to announce the launch of its new health and wellness program, "Take the Step." The program was put in place to provide resources for team members to take steps toward improving or maintaining a healthy lifestyle by encouraging them to become more aware, knowledgeable, and proactive concerning their health and wellbeing.
The overarching message behind Take the Step is that everyone matters, and their health and wellness matter equally as much. The program is comprised of a three-fold structure to Educate, Engage, and Empower team members with a goal of motivating them to take baby steps toward better health. The program as a whole consists of several factors and resources, including nutrition and movement programs, team challenges, preventative screenings, and an increased focus on mental health. With this new project in place, Lippert leaders hope to get everyone started on a new, unified journey toward optimum health and wellness from which all team members can benefit.
"I'm confident that this will really make a profound impact on so many of our team members in the coming years," stated Jason Lippert, President and CEO of Lippert. "The health and wellbeing of our team is not only critical to our success as a company, but most importantly, it is implanted in the culture we have created. If we can educate and get our team members (all of us) healthier, healthcare costs can go down for everyone. Not to mention, it will promote healthier habits and lifestyles for us all — helping make us mentally sharper, feel better, and become the best versions of ourselves for our teams, family, and friends."
Jaime Murphy, Director of Health & Wellbeing, will spearhead the program. "I am so incredibly excited to be a part of this initiative," she stated. "Lippert has provided the foundation for this program to be a success by developing a culture dedicated to caring for all team members. Accessibility in the workplace, prevention, and intervention with education will collectively allow us to support each other as we all take action steps to better health. We can't wait to get started!"
---
With over 120 manufacturing and distribution facilities located throughout North America and Europe, Lippert™ is a leading, global manufacturer and supplier of highly engineered components and customized solutions dedicated to shaping, growing, and bettering the RV, marine, automotive, commercial vehicle, and building products industries, and their adjacent markets. Lippert also serves a broad array of aftermarket industries, supplying best-in-class products designed to enhance recreational pursuits, both on the road and on the water. From powerful towing technology and automated RV leveling systems, to boating furniture and one-of-a-kind shade solutions — Lippert combines strategic manufacturing capabilities with the power of our winning team culture to deliver unrivaled Customer Service, award-winning Innovation, and premium Products to every industry and person we serve.
Lippert
3501 County Road 6 East
Elkhart, IN 46514
Email: marcom@lci1.com