Lippert Premieres Solid Stance™ Step Stabilizer Kit to the RV Aftermarket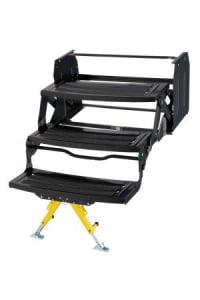 July 21, 2021
Elkhart, Ind. — Lippert Components, Inc. (Lippert™) announces that its Solid Stance™ Step Stabilizer is now available to dealers and warehouse distributors as a retail-ready aftermarket kit.
The Solid Stance Step Stabilizer was crafted with a goal of making the most basic RV and trailer entrance steps safer and easier to use by eliminating step bounce and imbalance. By grounding the bottom step, the Solid Stance improves stability and convenience on all current Lippert double and triple steps as well as several competitors' double and triple steps. Specifically, the kit is compatible with all Lippert double and triple steel radius steps along with its double and triple Alumi-Tread Step® hybrid aluminum step collections.
The Solid Stance kit features dual, individually adjustable legs with four adjustment angles that were designed to adapt to uneven surfaces and various terrain, and the legs offer a range of 5" to 14" of adjustable height. Dismantling and reassembling the Solid Stance is not necessary as it permanently attaches to steps and folds up with the step assembly when not in use – eliminating the need to store it separately. Its heavy-gauge, steel construction design provides added protection to the bottom entry step and defends it from wear and sagging. Additionally, the installation process is simple and can be completed in 20 minutes or less.
While grounded entry steps are becoming more sought-after by RVers, Lippert acknowledged the demand and provided a platform that supplies that asset while also delivering increased stability when users enter and exit an RV or trailer. "When we debuted this product to our OEM partners two years ago, we wanted to address one of the complaints in the industry, which is that the traditional fold-out style steps are too 'soft' and spongey when walked on," said Andy Murray, Chief Sales Officer. "We recognized that issue and developed a product that uses the same principles as our high-end Solid Step and keys off of the ground, which ultimately gets rid of undesirable bounce and instability, enabling an additional sense of security when entering and exiting the coach."
Compared to similar products on the market, the Solid Stance Step Stabilizer is positioned as an inexpensive, convenient solution for safe and reliable RV and trailer entry steps. Murray continued, "We're excited about the product because it gives a high level of performance at a more cost-effective price. Our goal was to take very practical and useful features and narrow them down into a more affordable product so more people can benefit from it."
---
With over 90 manufacturing and distribution facilities located throughout North America, Europe, Africa, and Asia, Lippert™ is a leading, global manufacturer and supplier of highly engineered products and customized solutions dedicated to shaping, growing, and bettering the RV, marine, automotive, commercial vehicle, and building products industries, and their adjacent markets. Lippert also serves a broad array of aftermarket segments, supplying best-in-class products designed to enhance recreational pursuits, both on the road and on the water. From powerful towing technology and automated RV leveling systems, to boating furniture and one-of-a-kind shade solutions — Lippert combines strategic manufacturing capabilities with the power of our winning team culture to deliver unrivaled Customer Service, award-winning Innovation, and premium Products to every industry and person we serve.
Lippert
3501 County Road 6 East
Elkhart, IN 46514
Email: marcom@lci1.com