Lippert Promotes Mark Woloszyk to Chief Technology Officer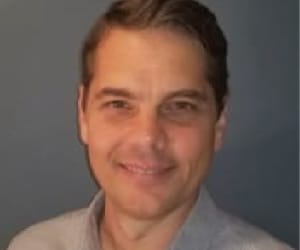 February 7, 2023
Elkhart, Ind. — Effective January 1, 2023, Mark Woloszyk has been promoted to Lippert's Chief Technology Officer. In this role, Mark will lead Lippert's Global Product Technology and Innovation initiatives and will report to Jamie Schnur, President of Aftermarket & Technology. Mark succeeds Rob Ford, who retired at the end of 2022.
Jamie Schnur stated, "I would like to thank Rob for his leadership and countless contributions to the Company through the years. He joined Lippert in 2014 through the acquisition of IDS Electronics. During his tenure, Rob and his team have been instrumental in Lippert's success in the technology and innovation space, with countless product developments and improvements. Our OneControl platform was the key building block in the foundation for our digital products. Rob and his team empowered the rest of our organization to build world class connected products. We are sorry to see him go and wish him all the best in the future".
"Mark Woloszyk is an industry veteran, with over 25 years of experience, and over 8 of those years at Lippert. Mark and Rob worked closely together for decades and he is well equipped to lead Lippert's technology and innovation initiatives in 2023 and beyond. His vision for our organization will allow us to continue to build industry leading products that please our customers and their end users. Mark graduated from the University of Michigan with a degree in Electrical Engineering. Please join me in congratulating Mark on his well-deserved promotion!"
---
From over 140 manufacturing and distribution facilities located throughout North America, Africa and Europe, Lippert™ supplies a broad array of highly engineered components for the leading manufacturers of recreational vehicles, automobiles, watercraft and prefab homes. It also operates in adjacent markets, including hospitality, transportation, construction and agriculture. Lippert™ serves a wide range of aftermarket segments, providing high-quality products for the recreational vehicle / caravanning, automotive and marine industries. With over 12,500 team members and a diverse portfolio of best-in-class brands, Lippert™ adopts a team-based business philosophy and has proven that, by putting people first, the possibilities for growth and development are truly endless.
Lippert
52567 Independence Ct.
Elkhart, IN 46514
Email: marcom@lci1.com