Lippert Rail Offers an Innovative & Technical Hub to Meet the Needs of Train Manufacturers and Passengers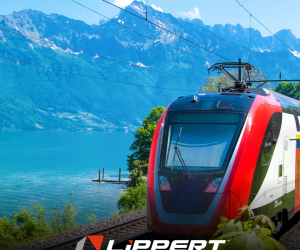 September 21, 2022
Elkhart, Ind. — Lippert Components, Inc. (Lippert™), is a supplier of a broad array of highly engineered components for the leading original equipment manufacturers ("OEMs") for the caravanning, rail and marine industries.
After the acquisition of Sessa Klein S.p.A. in 2017 and Ciesse S.p.A. in 2019, Lippert have enhanced the capabilities of both companies from an innovative and cultural perspective. In 2021, Lippert has become member of UNIFE, the European Rail Supply Industry Association, the official representative body of the rail supply industry in Europe.
Lippert Rail has plants throughout Italy, the United States, Canada and Tunisia, serving the top companies in the Rail industry with a combined 45,000 sqm of production area and offering premium train products to both the North American and European Railway markets.
To further develop a better experience for rail passengers, Lippert founded the Technical Excellence Center (TEC) in 2022. Lippert TEC is a unique 3,000 sqm facility, and aims to be an innovative force in the global Railway industry. It has been carefully implemented to meet the needs of train manufacturers and passengers, through the design and testing of prototypes together with the customer before and during the production phase.
"We want to play a key role in the market for the next challenges of sustainable mobility. As Lippert Rail we want to serve our clients in a more efficient way. Lippert TEC is one of our answers to these demands. We are passionate about supporting our customers and stakeholders with a committed team that everyday works with purpose and dedication", says Francesco Filippelli VP of Lippert Rail EMEA.
Through disruptive product development Lippert supply capabilities are constantly growing to serve the worldwide Rail market with strategic transportation solutions.
"Our objective is to replicate the innovation and product penetration we have experienced in the United States RV and Marine markets in the past two decades and apply it to the Rail market to advance the industry in some exciting ways," said Jim Menefee, Lippert Group President EMEA.
Lippert TEC is aligned to Lippert goals based on 4 pillars to become trend setters in the market: innovation, customer experience, culture and leadership development and quality.
"At its heart, Lippert is about people, and bettering the Rail industry starts by bettering the lives of those who influence that industry every day," said Jason Lippert, CEO.
About Lippert EMEA (Europe, Middle East, Africa)
In 2016, Lippert™ began to focus its attention and resources in the European Caravanning Market acquiring some of the most successful companies in the industry. Headquartered in Tuscany, Italy, Lippert's manufacturing capabilities include entry door manufacturing and lamination, bed lifts, pop up roofs for camper vans, slide-outs, table legs, TV Brackets, bike carriers, entry steps, blinds and flyscreens. Ever advancing in this market, Lippert has also expanded into the Netherlands by acquiring the Dutch brand Polyplastic which specializes in vinyl, aluminum and frameless windows. Most recently, Lippert acquired the German brand Schaudt, a manufacturer of power management, battery chargers and electronic control systems. As Lippert expanded into the European Caravanning Market, several strategic acquisitions were made in the Global Rail Industry, creating Lippert Rail, manufacturing glass windows and interior furniture for trains. In the Rail Sector, Lippert's continued focus is on highly engineered products and extensive research of innovative solutions, offering these products to vehicle owners, operators, manufacturers and refurbishers, industry subcontractors, authorities and organizations. Lippert also made a substantial investment in the Global Marine Market with the acquisition of the Lewmar Limited group of entities, an industry leader in hardware, winches, hydraulics, windlasses, anchors, thrusters, steering systems, hatches and portlights that suits every vessel from the smallest day fisher to largest mega-yacht.
For more information:
Francesca Tompetrini – Marketing Coordinator
ftompetrini@lippertcomponents.com
Lippert
Via Etruria 1
50026 San Casciano Val di Pesa (FI) – Italy
Phone: +39 055 8293411
www.lippertcomponents.eu
www.instagram.com/lipperteurope
www.facebook.com/LippertEurope
---
From over 140 manufacturing and distribution facilities located throughout North America, Africa and Europe, Lippert™ supplies a broad array of highly engineered components for the leading manufacturers of recreational vehicles, automobiles, watercraft and prefab homes. It also operates in adjacent markets, including hospitality, transportation, construction and agriculture. Lippert™ serves a wide range of aftermarket segments, providing high-quality products for the recreational vehicle / caravanning, automotive and marine industries. With over 12,500 team members and a diverse portfolio of best-in-class brands, Lippert™ adopts a team-based business philosophy and has proven that, by putting people first, the possibilities for growth and development are truly endless.
Lippert
52567 Independence Ct.
Elkhart, IN 46514
Email: marcom@lci1.com