Lippert's Nicole Sult Named Vice President of Customer Experience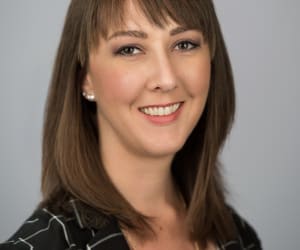 October 14, 2021
Elkhart, Ind. — Lippert Components, Inc. (Lippert™), a supplier of a broad array of highly engineered components for the leading original equipment manufacturers ("OEMs") in the recreation and transportation product markets, and the related aftermarkets of those industries, has named Nicole Sult as Vice President of Customer Experience (CX). In this new role, Ms. Sult will spearhead the organization's global CX initiatives externally, as well as align Lippert's CX goals and objectives internally throughout the organization. Sult will report to Joe Thompson, Lippert's Chief Marketing Officer.
Nicole began her career at Lippert in 2014 when she was hired to improve Lippert's expanding Customer Care Center's systems and operations. She already had considerable experience having worked ten years for Thor's Customer Service division. In June of 2020, Lippert Executive Leadership tasked Sult with creating Lippert's first department dedicated to expanding its customer experience and outreach initiatives. In one short year, Sult has assembled a team of CX professionals, created multiple consumer online communities and has reached millions of RVers, end-users, and outdoor enthusiasts.
Lippert began its customer experience journey with the creation of the "Lippert Scouts," a closed online community comprised of hand-picked RVers that live the lifestyle every day. The Scouts group was created not only to get important feedback on Lippert products, but to continually enhance the overall RVing experience. Lippert has since created an additional open online forum, "Scouts the Community," whose purpose is to engage, educate, and respond to any topic or issue that any member may have. Recently, a program similar to the Scouts dubbed the "Lippert Captains" was launched to focus on the Marine Industry. To date, all of Lippert's consumer groups have over 10,000 engaged RV and boat owners looking to improve their experience. All of these CX efforts are essential to fortifying Lippert's new brand promise launched earlier this year, "Whenever, wherever, we make your experience better."
Consumer rallies are at the core of understanding RV end-users. Sult's team has had presence at over 20 rallies this calendar year, held technical seminars, introduced new products, and listened to consumer feedback. Last month, Lippert hosted and completed its first successful rally, "The Lippert Getaway," where 350 RV owners, agnostic of brand, gathered in Pigeon Forge, Tennessee, for technical training, fellowship, and entertainment. The rally was a resounding success, and Lippert is already in the planning phases for next year's Getaway.
"I have had the pleasure of watching Nicole develop into a key strategic leader for this organization since she joined Lippert over eight years ago," stated Jamie Schnur, President of Aftermarket & Technology. "She is extremely passionate about our customers, end-users and their journeys with our products. She and the team she has built will be responsible for ensuring that our products and services to our customers, and ultimately their end-users, are getting the very best experience they can for all of Lippert and its brands."
Joe Thompson, Lippert Chief Marketing Officer, commented, "Understanding the end-user is a cornerstone of having an efficient marketing department within any organization. The fact that Lippert has put such a focus on this initiative only strengthens our marketing efforts, and the results that Nicole and her team have already achieved should get everyone in our organization very excited for the future ahead."
"It is no secret that the RV Industry can provide great service and outreach to the end-users of our products which is why we decided to really invest in the idea of customer experience last year," said Jason Lippert, President and CEO of Lippert. "Nicole's experience, along with her long track record of leadership and passion for the consumers of our products, made her the natural choice to lead this initiative. In just one short year, she has built an amazing team and turbocharged this initiative, proactively reaching out and creating programs and forums so that we can hear from more consumers than we could have ever dreamed of. As a leadership team, we recognize that the customer experience is an essential piece to our long-term success in growing not only Lippert, but the entire RV industry and lifestyle as a whole. We have only just gotten started with our customer experience initiatives, and I can't wait to see where Nicole can take it next."
"I am humbled and honored with the opportunity and trust to lead Customer Experience in this new role," said Nicole Sult, VP of Customer Experience. She continued, "Customer experience has been close to my heart throughout my career, and I am excited for the commitment Lippert has made in advancing the field. I want to extend a special thank you to my mentors and my family, which now includes our Lippert Scouts, Captains, and business partners. This dedication to customer experience and integration of the "voice of the customer" solidifies Lippert's unwavering commitment to making lives better by using our business as a force for good."
---
From over 140 manufacturing and distribution facilities located throughout North America, Africa and Europe, Lippert™ supplies a broad array of highly engineered components for the leading manufacturers of recreational vehicles, automobiles, watercraft and prefab homes. It also operates in adjacent markets, including hospitality, transportation, construction and agriculture. Lippert™ serves a wide range of aftermarket segments, providing high-quality products for the recreational vehicle / caravanning, automotive and marine industries. With over 12,500 team members and a diverse portfolio of best-in-class brands, Lippert™ adopts a team-based business philosophy and has proven that, by putting people first, the possibilities for growth and development are truly endless.
Lippert
52567 Independence Ct.
Elkhart, IN 46514
Email: marcom@lci1.com