Lippert Sponsors Van-Lifers Grayson & Harrison for Harvest Hosts Adventure Series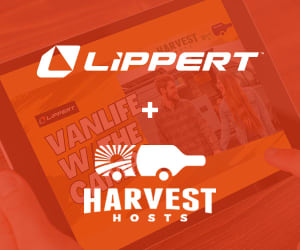 June 22, 2023
Elkhart, Ind. ─ Lippert Components, Inc. (Lippert™), a supplier of a broad array of highly engineered components for the leading original equipment manufacturers ("OEMs") in the recreation and transportation product markets and the related aftermarkets of those industries, is excited to announce its sponsorship of van-lifers Grayson & Harrison on Harvest Hosts' Adventure Series. The series is a video campaign aimed at inspiring and educating RV enthusiasts and new travelers by showcasing the beauty of the outdoors and the fun of RV travel.
As part of the sponsorship, Grayson & Harrison will be hitting the road in their van to explore the great outdoors and share their experiences with viewers. The Adventure Series will feature a variety of RV topics presented by real RVers on the road, including budgeting and meal planning, boondocking, RV renovations and celebrating holidays on the road.
"We are thrilled to partner with Harvest Hosts and sponsor Grayson & Harrison on the Adventure Series," said Seth Carlson, Lippert Customer Experience Director of Partnerships. "At Lippert, we are dedicated to providing high-quality components that make RV travel comfortable and enjoyable, and we believe that Grayson & Harrison's journey will showcase the best of RV travel. We want outdoor enthusiasts to know that whenever, wherever, Lippert is there to make your experience better."
The new YouTube series will also cover a range of interests and styles of camping. Some content will focus on the experience you can have at a Harvest Hosts location, including cooking, beer and beverage reviews, as well as dive into stories about host locations. The series will also feature campground reviews, outdoor activities, RV renovation tips and even stops at Brit Stops locations to showcase travel overseas.
When asked about the sponsorship, the van-lifers said, "Partnering up with Harvest Hosts and Lippert has been epic! We are so excited to participate in this Adventure Series and have some amazing things in store. With the power of the Lippert Communities app and the amazing Harvest Hosts network, we will be unlocking the full potential of your wanderlust all summer long. We hope you'll follow our journey!"
To learn more and follow Grayson & Harrison's journey, join Lippert Communities. You may also follow Lippert, Harvest Hosts, and Grayson & Harrison on Instagram.
For more information on the Adventure Series, visit The Adventure Series - Unique RV Camping with Harvest Hosts.
About Harvest Hosts
Harvest Hosts is a membership club for RVers offering unique overnight stays at over 8,000 locations all over North America, including more than 4,800 farms, wineries, breweries, distilleries, golf courses, museums, and other scenic small businesses, in addition to over 3,300 Boondockers Welcome community host locations. The company is the largest private RV camping network in North America, and its mission is to help millions of people live happier lives through road travel while supporting wonderful small businesses and communities along the way. HarvestHosts' latest offerings include CampersCard, which provides free marketing for campgrounds and perks, discounts, and benefits for campers, and CampScanner, which connects campers with sold-out campgrounds. To learn more, visit www.harvesthosts.com, www.camperscard.com, and www.campscanner.com; download the Harvest Hosts app on iOS and Android.
---
From over 140 manufacturing and distribution facilities located throughout North America, Africa and Europe, Lippert™ supplies a broad array of highly engineered components for the leading manufacturers of recreational vehicles, automobiles, watercraft and prefab homes. It also operates in adjacent markets, including hospitality, transportation, construction and agriculture. Lippert™ serves a wide range of aftermarket segments, providing high-quality products for the recreational vehicle / caravanning, automotive and marine industries. With over 12,500 team members and a diverse portfolio of best-in-class brands, Lippert™ adopts a team-based business philosophy and has proven that, by putting people first, the possibilities for growth and development are truly endless.
Lippert
52567 Independence Ct.
Elkhart, IN 46514
Email: marcom@lci1.com