Lippert™ Expands the OneControl® Experience to CURT for Improving Towing Experiences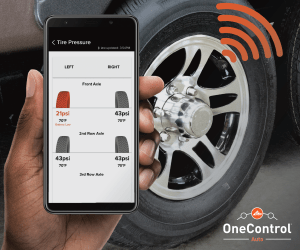 June 29, 2023
Elkhart, Ind. – Lippert Components, Inc. (Lippert™), a supplier of a broad array of highly engineered components for the leading original equipment manufacturers ("OEMs") in the recreation and transportation product markets, and the related aftermarkets of those industries, is proud to debut the all-new OneControl Auto™ app.
The Lippert OneControl Experience allows users to access many advanced features and functions for their truck, SUV or RV through a custom-designed app that works with Android and iOS smartphones. The OneControl RV app has been a go-to solution for years in the recreational towing market with the ability to remotely monitor and control essential RV functions such as air conditioning temperatures, refrigerator temperatures, tire pressure, and more.
The new OneControl Auto app is designed to provide the same comfort and innovative technology to the broader trailer owners including gooseneck or large enclosed trailers, to monitor tire pressure, manage and control trailer brake output and sensitivity, all while preventing trailer sway in real-time.
"The OneControl Auto experience is truly designed to streamline the towing experience and remove the stress that can come with towing a trailer," said Mark Woloszyk, Chief Technology Officer at Lippert. "It's designed to improve safety, reduce stress and improve overall satisfaction by giving the driver more awareness and control of their trailer while towing in real-time."
The OneControl Auto system works through an advanced application that works on Android and iOS smartphones and allows the user to monitor trailer tire pressure, adjust trailer brake settings such as brake output and sensitivity and helps to prevent trailer sway when emergencies occur.
OneControl Auto works with the CURT Tire Linc™ Auto TPMS (tire pressure monitoring system), which can monitor tire pressure on up to 20 individual tires or 10 axles, and works with CURT Echo™ series brake controllers and True Course™ electronic sway control system.
"With this new innovative technology, you can check tire pressure as you tow and even adjust your trailer brake settings," said Woloszyk. "By avoiding tire blowouts and having better control of your brakes, you improve safety and help to avoid accidents. And, in the case of an emergency maneuver, True Course works to automatically apply the trailer brakes to help prevent a small mishap from becoming a serious accident."
"This technology was developed as a response to consumer feedback surrounding the stressors and inconveniences of towing. And, when our customers ache for solutions to real-world towing problems, we design the technology that helps them get down the road, problem and stress-free," said Woloszyk.
To learn more about the CURT Echo series brake controllers, CURT Tire Linc TPMS monitors or CURT True Course electronic sway control system, check out the product pages.
Echo:
https://www.curtmfg.com/curt-echo-brake-controller
True Course:
https://www.curtmfg.com/part/51202
Tire Linc:
https://www.curtmfg.com/part/57009
To learn more about CURT and its products, go to curtmfg.com.
---
From over 140 manufacturing and distribution facilities located throughout North America, Africa and Europe, Lippert™ supplies a broad array of highly engineered components for the leading manufacturers of recreational vehicles, automobiles, watercraft and prefab homes. It also operates in adjacent markets, including hospitality, transportation, construction and agriculture. Lippert™ serves a wide range of aftermarket segments, providing high-quality products for the recreational vehicle / caravanning, automotive and marine industries. With over 12,500 team members and a diverse portfolio of best-in-class brands, Lippert™ adopts a team-based business philosophy and has proven that, by putting people first, the possibilities for growth and development are truly endless.
Lippert
52567 Independence Ct.
Elkhart, IN 46514
Email: marcom@lci1.com