Lippert to Hold Inaugural seRV™ Volunteer Rally in Ocala, Florida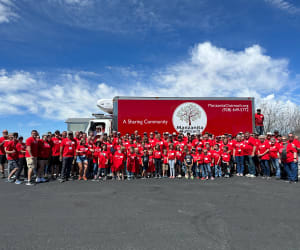 August 14, 2023
Elkhart, Ind. ─ Lippert Components, Inc. (Lippert™), a leading supplier of highly engineered components for top original equipment manufacturers ("OEMs") in the recreation and transportation product markets and their related aftermarkets, is excited to announce the first ever seRV™ Volunteer Rally at Champions Run RV Resort in Ocala, FL, October 19th through the 22nd.
Launched in 2022, seRV With Purpose stands as the embodiment of Lippert's mission of making business a force for good in the world, linking likeminded RVers interested in purpose driven travel to nonprofit organizations across North America. As an extension of this mission, the first-ever seRV Volunteer Rally presents an extraordinary opportunity for RV enthusiasts to join forces in creating a positive impact within the Ocala community.
"As we approach the one-year mark since seRV was first announced, I cannot think of a better way to celebrate the initiative than by attending the rally and seRVing together," said Michilah Grimes, Director of Corporate & Community Impact at Lippert. Grimes continued, "The need has always been out there, and working with these amazing families has solidified that the timing was right for this community of generous volunteers to begin giving back in unique ways all over the country. The seRV rally truly will be a celebration, both of what has been accomplished, as well as what is still to come."
Over the course of this four-day weekend, attendees will have the opportunity to work alongside rally hosts Sean and Christina Conlon of @PawsForLove, graciously donating their time at local food pantries, thrift stores, completing park beautification and more. The Conlons and their beloved dogs, Nash and Maverick, are official seRV and Lippert Brand Ambassadors and have hosted dozens of volunteer events nationwide.
"We are so excited to help launch the inaugural seRV Volunteer Rally and bring a weekend of impact to Ocala nonprofits," said Christina Conlon, @PawsForLove. "As RVers, one thing we have learned is that this community has a heart and passion for seRVing but they don't know how to do that as they travel. This rally helps fill that void. Through the seRV Volunteer Rally, RVers will have the opportunity to meet new friends and seRV up to 7 hours over one weekend, generating hundreds of volunteer hours for nonprofits that desperately need help. It's going to be an amazing weekend all around!"
At Lippert, we recognize that RVers have a unique opportunity to contribute meaningful change to the places they visit. By attending the seRV Volunteer Rally, they are not only enriching their travel experience but also leaving behind a positive impact that will uplift the local community while making lifelong friendships along the way. This active involvement showcases the potential for travelers everywhere to be catalysts for transformative change, proving that every journey can make a lasting impact.
For more information on the seRV Volunteer Rally, visit seRV With Purpose (servwithpurpose.com)
---
From over 140 manufacturing and distribution facilities located throughout North America, Africa and Europe, Lippert™ supplies a broad array of highly engineered components for the leading manufacturers of recreational vehicles, automobiles, watercraft and prefab homes. It also operates in adjacent markets, including hospitality, transportation, construction and agriculture. Lippert™ serves a wide range of aftermarket segments, providing high-quality products for the recreational vehicle / caravanning, automotive and marine industries. With over 12,500 team members and a diverse portfolio of best-in-class brands, Lippert™ adopts a team-based business philosophy and has proven that, by putting people first, the possibilities for growth and development are truly endless.
Lippert
52567 Independence Ct.
Elkhart, IN 46514
Email: marcom@lci1.com