Lippert Unveils Innovative Merchandising Solutions and Aftermarket Products at 2022 NTP-STAG Expo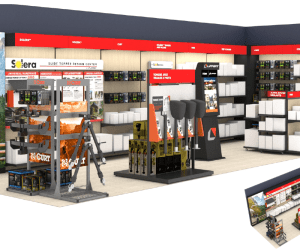 January 26, 2022
Elkhart, Ind. — Lippert Components, Inc. (Lippert™), the parent company of Curt Manufacturing, LLC (CURT®), supplier of a complete line of towing products and a leading manufacturer of USA-made custom-fit trailer hitches, and the parent company of Furrion LLC (Furrion®), is unveiling latest RV and Towing Aftermarket products, along with an exciting new lineup of dealer profit programs, at the 2022 NTP-STAG Expo, January 25-26 in Las Vegas, Nevada. Lippert recently increased its robust listing of dealer profit programs to over 51+ offerings that include new eye-catching displays and promotional materials.
New to 2022 will be Lippert's all new store-in-store concepts featuring custom engineered retail fixtures designed to be placed in small, medium, and large dealerships. Lippert, in partnership with an industry leading retail design firm, will offer its all-new retail kiosk technology. The kiosk, which can be updated instantly with new product information, images, and videos, was designed to be an in-store retail assistant for any dealership, helping customers understand Lippert's vast product line and ultimately influence the buying decision. The user interface design is tailored to give customers a simple and efficient way to find updated product information, user videos and images, ordering information, and much more.
"We are really excited to debut our new merchandising solutions at this year's Expo," said Jarod Lippert, Vice President of Marketing. "This kiosk will be the centerpiece of our store-in-store concepts, something that I have wanted to bring to the retail environment since we first started working with the RV aftermarket twelve years ago. This kiosk will be Lippert's 'virtual assistant' in the field, giving retail customers useful information, images, and videos for all product by Lippert, CURT, and Furrion. We hope this will be a tremendous value-add for our warehouse distributer and dealer partners going forward," Lippert added.
"I am so happy we are able to showcase our team's tremendous commitment and the investments we have made in people to help support training and merchandising efforts for all the dealers in North America. We will be focused on weight distribution for CURT, Solera® awnings and toppers, Thomas Payne® furniture, and Furrion air conditioners," said Mark Boessler, Senior Vice President of Aftermarket Sales.
Lippert's goal is to select 22 dealerships in 2022 as part of its initial store-in-store offerings this year. Current Lippert Gold Circle Dealers will get priority as Lippert goes through the vetting process. Through this program, Lippert will offer a "white glove" service to help their dealer partners decide which store-in-store option is best for their dealership, including:
Survey of the store prior to installation
Complete merchandising plans based on their profit program mix
White glove installation at time of store set up
At the show, Lippert is also unveiling its first-ever merchandising guide, a great resource for its dealer partners that will visually map each profit program SKU-by-SKU.
New products and programs being featured at this year's Expo will include Lippert's new line of Thomas Payne® Furniture, the new 5000 Series Solera® Slide Topper, CURT's TruTrack™ 2P and 4P weight distribution systems, CURT's PowerRide™ 5th Wheel Hitch and CrossWing 5th Wheel Hitch, and the Furrion Chill® line of Air Conditioners.
---
From over 140 manufacturing and distribution facilities located throughout North America, Africa and Europe, Lippert™ supplies a broad array of highly engineered components for the leading manufacturers of recreational vehicles, automobiles, watercraft and prefab homes. It also operates in adjacent markets, including hospitality, transportation, construction and agriculture. Lippert™ serves a wide range of aftermarket segments, providing high-quality products for the recreational vehicle / caravanning, automotive and marine industries. With over 12,500 team members and a diverse portfolio of best-in-class brands, Lippert™ adopts a team-based business philosophy and has proven that, by putting people first, the possibilities for growth and development are truly endless.
Lippert
52567 Independence Ct.
Elkhart, IN 46514
Email: marcom@lci1.com