Lippert Unveils New E-commerce Axle Program & Online Configurator Tool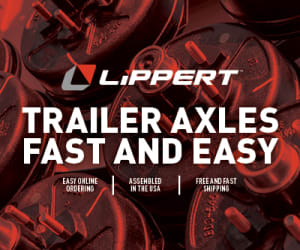 January 25, 2023
Elkhart, Ind. – Lippert Components, Inc. (Lippert™), a supplier of a broad array of highly engineered components for the leading original equipment manufacturers ("OEMs") in the recreation and transportation product markets, and the related aftermarkets of those industries, is proud to debut its new e-commerce axle program and online configurator tool to enhance the user shopping experience.
With a substantial offering of common axle sizes and configurations, along with optional installation kits, Lippert hopes to better serve the utility trailer parts market by enabling customers to make direct online axle purchases. Target customers in this program are DIY retail customers wanting to replace or upgrade their trailer's axle, dealers and installers in the utility trailer parts and RV market, and those embarking on a new trailer build.
An exciting part of this initiative is Lippert's ability to offer free and quick shipping on trailer axle kits. The most common Lippert axles and associated installation kits will ship directly from Lippert's axle facilities the same or next business day, while custom axle configurations and bulk orders may have a longer lead time.
Lippert hopes this self-service e-commerce experience will better serve the utility trailer parts market by providing customers with a quick and easy way to select a new trailer axle.
"Our goal was to create a convenient and user-friendly process to purchase competitively priced axles and axle components that ship for free within a full business day," said Bob Boone, Axle Product Manager and Vice President of Utility Axle Sales. "This innovative new axle program and planned future enhancements will change the way everyone shops for trailer axles."
To learn more about Lippert axles, visit https://store.lci1.com/all-about-lippert-axles, and be sure to check out Lippert's axle configurator on https://store.lci1.com/axle-configurator.
---
From over 140 manufacturing and distribution facilities located throughout North America, Africa and Europe, Lippert™ supplies a broad array of highly engineered components for the leading manufacturers of recreational vehicles, automobiles, watercraft and prefab homes. It also operates in adjacent markets, including hospitality, transportation, construction and agriculture. Lippert™ serves a wide range of aftermarket segments, providing high-quality products for the recreational vehicle / caravanning, automotive and marine industries. With over 12,500 team members and a diverse portfolio of best-in-class brands, Lippert™ adopts a team-based business philosophy and has proven that, by putting people first, the possibilities for growth and development are truly endless.
Lippert
52567 Independence Ct.
Elkhart, IN 46514
Email: marcom@lci1.com