Lippert Welcomes Adam Kronk as Chief Culture & Leadership Development Officer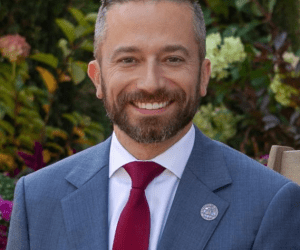 October 3, 2022
Elkhart, Ind. — Lippert Components, Inc. (Lippert™) announces today that Adam Kronk is joining Lippert as our Chief Culture & Leadership Development Officer after serving as the Head of School at La Lumiere, an independent, co-educational boarding school with a mission to form character, cultivate scholarship, and explore faith. Before that, he was founding director of the Notre Dame Deloitte Center for Ethical Leadership in the Mendoza College of Business at the University of Notre Dame. There, he worked with Fortune 500 companies on fostering character and integrity in business by translating cutting-edge academic research into practical application while also teaching values-based leadership and ethics to undergraduate business students.
Having started his career as an English teacher, Adam then worked overseas as Notre Dame's Director of Campus Ministry Outreach in Europe, before returning to South Bend and serving as Chief Operating Officer of the Center for the Homeless, a nationally recognized residential facility providing extensive programming and on-site services to hundreds of men, women, and children. He met his wife, Jacqueline, working there and together they moved to Cambodia to help lead an educational nonprofit in rural Siem Reap. In 2011, they moved back to Indiana and started a family while Adam was running the Center for Ethical Leadership—they've been blessed with four children: Sorin, 9; Leo, 7; Teddy, 6; and Siena, 4. Jacqueline now serves as CEO of the Boys & Girls Clubs of St. Joseph County, and community involvement has been the core of their marriage and their social lives from day one.
Adam earned undergraduate and master's degrees, both summa cum laude, from Notre Dame and is currently pursuing his doctorate in leadership and learning in organizations from Vanderbilt University.
"I learned a long time ago that the values an organization lives out have to start at the very top," said Adam, "and it's been clear from every conversation I've had that 'business as a force for good' is in Lippert's DNA. Through every step of my career journey, it's been my top priority to ensure that each person I encounter is treated with dignity and respect—human flourishing is impossible without that. I'm thrilled to help further the great work happening here and to join such a capable, purpose-driven team."
Jason Lippert commented, "We are very fortunate to have Adam join us at this stage in his career. His experience shows leadership, philanthropy and service are part of Adam's core which aligns directly with who we are at Lippert. I can't think of anyone better to lead this great Leadership and Culture team. Adam's leadership and vision will most definitely help expedite and facilitate the growth of the men and women inside our four walls so that ultimately, they can have more impact outside our four walls. Welcome, Adam!"
---
From over 140 manufacturing and distribution facilities located throughout North America, Africa and Europe, Lippert™ supplies a broad array of highly engineered components for the leading manufacturers of recreational vehicles, automobiles, watercraft and prefab homes. It also operates in adjacent markets, including hospitality, transportation, construction and agriculture. Lippert™ serves a wide range of aftermarket segments, providing high-quality products for the recreational vehicle / caravanning, automotive and marine industries. With over 12,500 team members and a diverse portfolio of best-in-class brands, Lippert™ adopts a team-based business philosophy and has proven that, by putting people first, the possibilities for growth and development are truly endless.
Lippert
52567 Independence Ct.
Elkhart, IN 46514
Email: marcom@lci1.com