Matt Moreland Named VP of Chassis Operations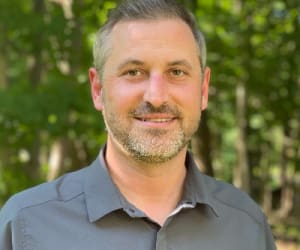 January 30, 2023
Elkhart, Ind. — Lippert Components, Inc. (Lippert™), a supplier of a broad array of highly engineered components for the leading original equipment manufacturers ("OEMs") in the recreation and transportation product markets, and the related aftermarkets of those industries, announced today the promotion of Matt Moreland to VP over all Lippert RV Chassis Operations.
A native of Rochester Hills, Michigan, Matt joined Lippert as a Management Trainee directly after graduating from Central Michigan University in 2006 where he earned his Bachelor of Science in Business Administration, majoring in Operations Management. Matt has held several positions within chassis operations, including Plant Manager, Director of Quality & Engineering and General Manager. Most recently, Matt has held the title of Regional Operations Manager over Lippert's Chassis Operations since 2019.
Lippert's RV chassis operations began in 1996, shortly becoming the foundation of Lippert's core RV business. Matt came to Lippert ten years later after a rapid chassis operation expansion that led to Lippert's introduction of other chassis related products like leveling, steps and ride enhancement products. Throughout the years, the stability of the chassis operations, led by Matt and a great operations team, has allowed Lippert to continue to grow into these other product lines due to the trust the customer has in the team that manufactures the foundation of their own product. Matt and the operations team led Lippert through one of, if not the most, stressful time periods in 2020 during the COVID-19 pandemic where Lippert delivered every chassis that was ordered without disrupting our customers' operations.
"I want to congratulate Matt on this well-deserved promotion; his consistency in operational results and leadership throughout the years made this an easy choice," said Ryan Smith, Group President over Lippert's North American OEM Operations. "It's never easy to fill the shoes of someone like Chuck Bell, who served Lippert for over 27 years. Matt has proven himself as someone who can not only fill those shoes but continually drive the business forward with innovative new ideas, all while leading with a level head and consummate professionalism."
"My journey at Lippert has been an amazing one," said Moreland. "I've worked alongside so many dedicated teammates as we've grown at such an incredible rate since 2006. There is still so much to do as we look to continue to mature and innovate all facets of our business. I am excited for the opportunity to lead and serve our teams as we build an even brighter future for the RV chassis operations.
Matt resides in Mishawaka with his wife Stephanie of 16 years and their four boys.
Please congratulate Matt on this well-deserved promotion!
---
From over 140 manufacturing and distribution facilities located throughout North America, Africa and Europe, Lippert™ supplies a broad array of highly engineered components for the leading manufacturers of recreational vehicles, automobiles, watercraft and prefab homes. It also operates in adjacent markets, including hospitality, transportation, construction and agriculture. Lippert™ serves a wide range of aftermarket segments, providing high-quality products for the recreational vehicle / caravanning, automotive and marine industries. With over 12,500 team members and a diverse portfolio of best-in-class brands, Lippert™ adopts a team-based business philosophy and has proven that, by putting people first, the possibilities for growth and development are truly endless.
Lippert
52567 Independence Ct.
Elkhart, IN 46514
Email: marcom@lci1.com