Newly Launched 3000 Series Patio Kits Now Available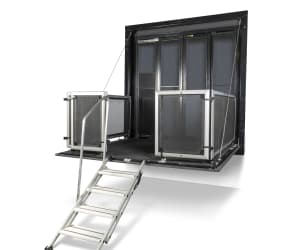 May 11, 2021
Elkhart, Ind. — Lippert Components, Inc. (Lippert™) is proud to introduce its new 3000 Series Patio Kits to the RV Toy Hauler industry.
The 3000 Series Patio Kit is being presented as an upgraded, up-to-date patio rail system that capitalizes on the original structure Lippert manufactured years earlier. It was constructed to give end users more room for toys on the inside of the hauler by providing a low-profile stack up of the rail system when in the stowed position. This modernized version features an edgy, new design with a lightweight composition and optional upgrade capabilities to accommodate the various categories of toy haulers.
The new system was designed from the ground up with new tools and materials to bring a fresh product into the market. The new rails are made with lightweight aluminum along with fasteners that keep rust and corrosion out and prevent rust from weeping out of the steel tubes. They are also constructed with a Lippert-specific, structural extruded aluminum hinge system that allows the gates to swing freely along with spring loaded, pin-less locking foot brackets that keep rails upright and secure during loading and unloading. An integrated locking accessory rail track also comes built into the system which allows the attachment of assorted accessories such as cupholders, tabletops, wastebasket holders, and more to be locked into the top rail for convenient use by the end user.
Keeping the respective toy hauler categories in mind, Lippert leaders wanted to offer a solid product that has the option to be upgraded even further for an enhanced user experience. While the main framework remains the same, each individual option provides its own exclusive solution at every level.
Base Model: Comes with mill finished aluminum and no gate – providing a safe, protective rail system when the ramp is in patio mode.
Custom Powder Option: This kit can be custom powder coated with colors that match the graphics and design on a specific coach. The color can be added to the rail system, giving the unit a personized look.
Gate Add-On: This option allows a pass-through gate to be added to the system which enables convenient entry and exit to and from the patio. Additionally, the Lippert Victory Step® can also be added for easy-on, easy-off ground access.
"We recognized the need for an upgraded patio rail system a few years ago, and we were determined to develop a system that would meet and exceed customers' needs and expectations," said Scott McKinnon, Lamination and Awning Product Manager. "Lippert engineers, manufacturers, production members, and more worked collaboratively to develop a new system that would positively establish itself as a superior choice in the rail system industry."
Stylish, integrated mesh netting on the siderails is also featured on the system. The mesh screens are in place as a safeguard for when the ramp is in patio mode. "We were looking for that clean, no-exposed-fastener look," continued McKinnon. "We applied our awning manufacturing experience and knowledge and added an awning-style cord rail to the mesh screens. This basically eliminated all the unsightly fasteners, giving the 3000 Series Patio Kit a tight, clean overall appearance."
---
From over 140 manufacturing and distribution facilities located throughout North America, Africa and Europe, Lippert™ supplies a broad array of highly engineered components for the leading manufacturers of recreational vehicles, automobiles, watercraft and prefab homes. It also operates in adjacent markets, including hospitality, transportation, construction and agriculture. Lippert™ serves a wide range of aftermarket segments, providing high-quality products for the recreational vehicle / caravanning, automotive and marine industries. With over 12,500 team members and a diverse portfolio of best-in-class brands, Lippert™ adopts a team-based business philosophy and has proven that, by putting people first, the possibilities for growth and development are truly endless.
Lippert
52567 Independence Ct.
Elkhart, IN 46514
Email: marcom@lci1.com