Rv Oems Adopt Latest Furrion Rv Chef Collection Appliances for 2017 Model Changes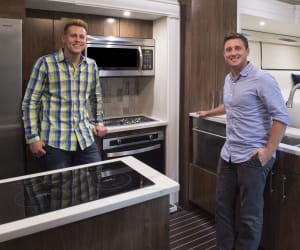 September 6, 2016
Elkhart, Ind. — Lippert Components, Inc. (LCI®), exclusive distribution partner of Furrion®, is pleased to announce that several major luxury fifth-wheel RV manufacturers, including Keystone, Heartland, Jayco and Crossroads have included Furrion's latest RV Chef Collection kitchen appliances in their 2017 model year.
The latest products developed for Furrion's RV Chef Collection include a stainless steel built-in oven, a stainless steel gas cooktop, and single burner induction cooktops. Lippert Components will display these product innovations at the 2016 Elkhart RV Open House.
"We are very pleased with the inclusion of Furrion's latest kitchen appliances in many of the most prominent RV models," said Ryan Smith, Vice President of Lippert Interiors. "In establishing our partnership with Furrion, we inherently knew we wanted to revisit industry-wide RV products and assess their relevance to today's RVers and campers. Many of the products, systems and interior components we looked at had lost a certain relevance or efficient functionality over the years. Through these efforts and more, we have been able to create product lines, including the RV Chef Collection, that have reconciled these issues and are improving the overall camping experience."
LCI and Furrion developed the RV Chef Collection appliance technologies to simplify and expedite the mobile cooking experience. The latest RV Chef Collection products, on display at the 2016 Elkhart RV Open House, are raising the RV interiors standard. The new stainless steel built-in oven boasts a large, 2.4-cubic-foot cooking space, triple pane glass and operates 18 percent more efficiently than similar products on the market. These energy- and mobile-conscious features are the foundation of the RV Chef Collection line. With other SMART technologies incorporated into the galley products, power draw and water usage are operating at the most efficient levels.
"It's exciting to see how well our customers, the original equipment manufacturers (OEMs), have responded to the RV Chef Collection and our partnership with Furrion. Our products are providing the best of both worlds, and the RV Chef Collection is a prime example of that: Our direct customers, the OEMs, are attracted to the floorplan flexibility and space saving innovations our products afford them while RV end users, the consumers, are gravitating to the residential-feel we've been able to capture with our design aesthetic," commented Andrew Mock, Sales Representative for Lippert Interiors. "The RV Chef Collection and our other interior products are raising the bar for industry-wide standards. We're extremely proud of and encouraged by the positive feedback we've received thus far, and it's beyond exciting to know that we headed in the right direction for future innovations."
Many of Furrion's latest RV Chef Collection galley appliances will be on display at the 2016 Elkhart RV Open House from September 19th - September 23rd.
For more information on Lippert Interiors and Furrion's RV Chef Collection, contact your LCI salesperson or visit furrion.com.
---
From over 140 manufacturing and distribution facilities located throughout North America, Africa and Europe, Lippert™ supplies a broad array of highly engineered components for the leading manufacturers of recreational vehicles, automobiles, watercraft and prefab homes. It also operates in adjacent markets, including hospitality, transportation, construction and agriculture. Lippert™ serves a wide range of aftermarket segments, providing high-quality products for the recreational vehicle / caravanning, automotive and marine industries. With over 12,500 team members and a diverse portfolio of best-in-class brands, Lippert™ adopts a team-based business philosophy and has proven that, by putting people first, the possibilities for growth and development are truly endless.
Lippert
52567 Independence Ct.
Elkhart, IN 46514
Email: marcom@lci1.com