Thule Awnings Gaining Traction in North American RV Market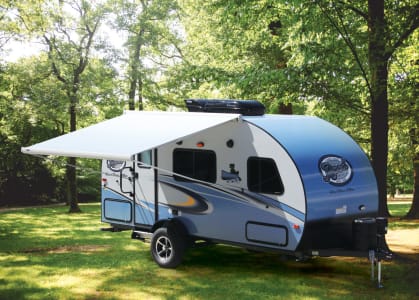 November 8, 2016
Elkhart, Ind. — Originally introduced to the North American RV market in 2015, Thule Group awnings are seeing increased activity with U.S. RV manufacturers. Through an exclusive sales and distribution partnership with Lippert Components, Inc. (LCI®), the Thule Crown, a wall-mounted manual awning, was recently displayed at the 2016 Elkhart RV Open House and was met with enthusiasm among RV OEMs.
"After its appearance at the Elkhart RV Open House, we've seen an increase in activity with smaller, lightweight RV models. We've had a steady amount of interest with Thule's product line from the beginning of the partnership, and it's exciting to see the continued growth and expansion of the line. The product line is a refreshing alternative for OEMs and RVers," commented Scott McKinnon, LCI's OEM Awning Product Manager.
Thule, a Swedish manufacturer of outdoor recreational products, is recognized around the world for bringing sophisticated products to outdoor enthusiasts. The introduction of Thule awnings into the North American RV market offers RVers a sleek design with a broad range of applications. Available in multiple sizes, the Thule Crown features optional, easy-to-deploy vertical support arms for added stability.
Thule products available to the North American market via LCI include the Thule Crown, a wall-mounted awning featuring an eight inch projection and quick release aluminum support legs. Thule's contemporary awning design matches modern RV designs and features an improved integration on vehicle sides. This lightweight yet sturdy awning is available in seven different lengths from 6.2 feet to 14.8 feet with a maximum projection of 8.2 feet.
Additionally, LCI and Thule plan to continue the line's expansion and will add full length, side wall and conventional awnings to the Thule portfolio of products offered through LCI.
For more information, contact Scott McKinnon at smkinnon@lci1.com
---
With over 120 manufacturing and distribution facilities located throughout North America and Europe, Lippert™ is a leading, global manufacturer and supplier of highly engineered components and customized solutions dedicated to shaping, growing, and bettering the RV, marine, automotive, commercial vehicle, and building products industries, and their adjacent markets. Lippert also serves a broad array of aftermarket industries, supplying best-in-class products designed to enhance recreational pursuits, both on the road and on the water. From powerful towing technology and automated RV leveling systems, to boating furniture and one-of-a-kind shade solutions — Lippert combines strategic manufacturing capabilities with the power of our winning team culture to deliver unrivaled Customer Service, award-winning Innovation, and premium Products to every industry and person we serve.
Lippert
3501 County Road 6 East
Elkhart, IN 46514
Email: marcom@lci1.com