Girard Tankless Water Heaters
Girard offers one of the best-selling tankless water heaters in the RV industry, supplying a large number of manufacturers with a high-quality solution. Our on-demand tankless unit was developed with state-of-the-art electronics and components. It provides endless hot water with no wait time for showering, dishwashing, laundering and more to empower the mobile lifestyle.
Shop Now
GSWH-2 Tankless Water Heater
The GSWH-2 is the culmination of years of research and experience. We listened to our customers and incorporated everything you wanted into this advanced tankless water heater.
It is easy to operate, providing endless water at the precise temperature desired. The onboard micro-processor monitors the incoming cold water temperature, flow rate and the outgoing hot water temperature to maintain a constant, steady hot water flow.
On-Board Micro-Processor Monitors:
• Monitors inlet water flow, inlet temperature and outlet temperature
• Regulates the burner to maintain the set hot water temperature
• 42,000 BTUs provide the optimum performance for RV plumbing
• No special LP gas lines or special plumbing required
• Equipped with quiet, brushless motor
• 12V power that operates at less than 3 amps
• Freeze protection enables reliable winter use
• Designed specifically for recreational vehicles
• Compact design fits in any tank water heater cut-out opening
Intuitive User Control Panel (UCP)
The state-of-the-art, interior, wall-mounted digital controller displays the operating functions and allows for temperature setting from 95°F to 124°F. It also can be changed to Celsius.
Parents will love the ability to pre-set the hot water temperature to a lower temperature and not worry that the water may get too hot. The UCP also features visual diagnostics that allow for easy troubleshooting.
Innovative Hinged Door
Finally, a water heater door that is easy to open and close – no more twist-latches! The hinged door and sliding latch allow fast, easy access to the water heater, and the silicone exhaust ring moves for easy alignment of the exhaust tube.
GSWH-2 Water Heater Conversion Doors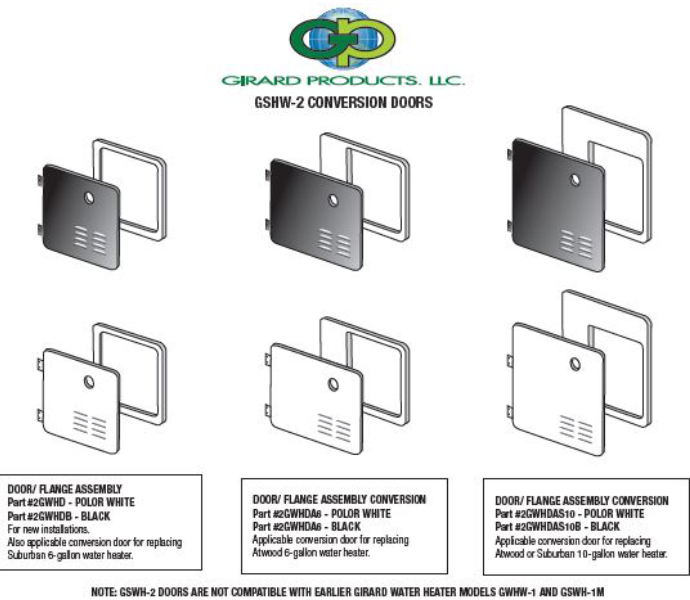 ---
Door Trim Rings