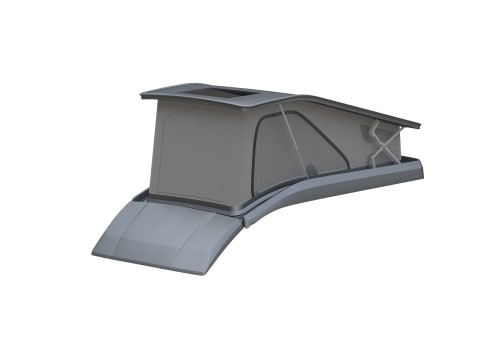 Vela Pop Top
The Vela Pop Top by Lippert is a manually operated, roof-mounted sleeper extension. It has a solid roof with a canvas body that includes screened windows, ceiling lights and lamps, a double bed, a USB module and more.
Sprinter Van Windows
Sprinter van windows by Lippert feature ultimate privacy with tinted glass, superior ventilation with dual vents and integrated bug screens, and protection against the elements with water-tight construction to prevent leaks.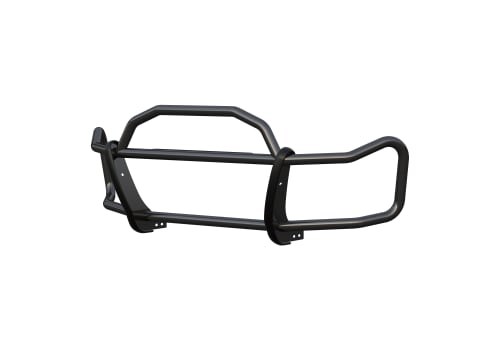 Cargo Van Grille Guards
Our grille guards are ideal for commercial vans. They are constructed from power-coated stainless steel for strength and excellent rust resistance, and they feature a vehicle-specific fit using a four-point mounting system.
Running Boards
Our MegaStep® and Grip Step™ running boards add style and safety to your fleet, featuring a lightweight aluminum construction and high-traction rubber or expanded metal treads. All our running boards are available in multiple van-specific configurations.
Ladders
Our van ladders by Thule® give you users easy access to their van roof and roof-mounted accessories. Fixed and moveable options are available, each providing stability and support with modern designs constructed from lightweight, anodized aluminum.
Camper Van Awnings
Wall and roof-mounted awnings by Thule® are equipped with sturdy tension arms and an innovative roller tube support for superior stability. With five-layer PVC fabric coated to be watertight and washable, our camp van awnings are built to last.
Roof Racks
Thule® van racks offer a variety of carrying options, with different adjustable, versatile and aerodynamic solutions to maximize carrying capacity. Designed with safety in mind, our van roof racks undergo rigorous testing to ensure top-notch quality.
Bike Racks (Sprinter & ProMaster)
Thule® camper van bike racks accommodate varying bike sizes and offer a secure and sturdy solution for transporting bicycles. They are also equipped with smart features like lock systems, wheel holders and fast-click connections that have been thoroughly tested for quality.
Bike Carriers (European)
Bike carriers by Lippert allow your customers to bring their bicycles along on their outdoor adventure and transport them with confidence. We offer several different styles to integrate with the layout of various camper vans.
Blinds & Flyscreens
To help camper van owners shut out harsh sunlight and create a private, peaceful, bug-free space, we offer a complete selection of window blinds and fly screens. They are available in various sizes, styles and functional designs to fit the needs of any camper.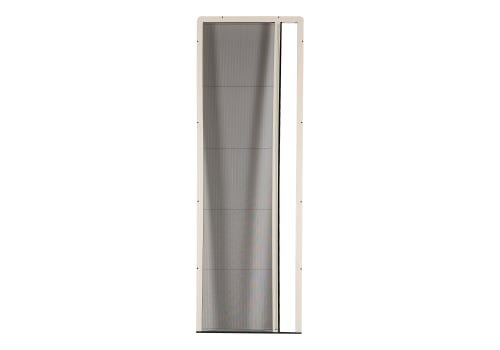 Sliding Door Screens
Our PVC and aluminum sliding door screens for camper vans feature a clutched sliding system that allows the door to be opened to any position. The high-quality screens are perfect for keeping insects and debris out of camper vans while allowing for fresh airflow.
Curved Acrylic Windows
Manufactured in many sizes and styles, Polyplastic camper van windows provide a clear view of the adventure. They feature high-quality construction and intuitive functionality coupled with seamless integrated designs.
Hitches
CURT hitches are custom-built to fit a specific vehicle. Our class 3 trailer hitches are used on camper vans to create a reliable towing connection to boat trailers, ATV trailers, utility trailers and more.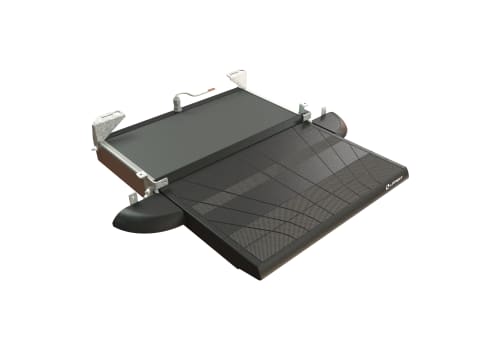 Sliding Electric Step
The Alanera sliding electric step is designed to meet the style of a modern camper van with its sleek profile and high-quality finish. Featuring drain channels and an anti-slip grip, the step combines weight-saving materials with effortless operation.
Faucets
Engineered for versatile functionality that meets the needs of the modern camper, our durable, 304-grade stainless steel faucets are available in gooseneck, pull-down, stationary and coiled options.
TV Brackets
Lippert carries a wide selection of TV brackets and mounts to ensure a custom fit for any van interior. We offer various sizes, material options and configurations, including powered models.
Bed Bases & Lifts
With customizable bed bases in assorted sizes and configurations to maximize interior space, Lippert motorized bed lifts and tilting mechanisms utilize a unique, retractable nylon strap that allows the lifting system to be concealed.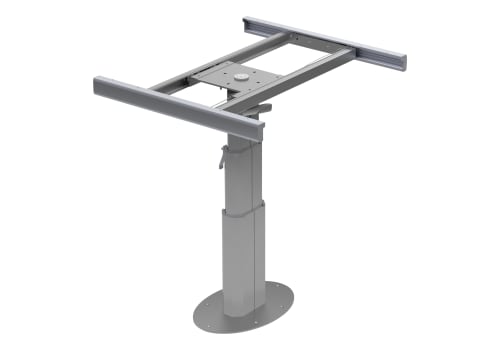 Table Legs
Lippert offers a wide variety of table legs built specifically for motorcaravans. With folding, rotating, sliding and telescoping leg options, available materials include anodized aluminum, painted steel and wood to match any camper van aesthetic.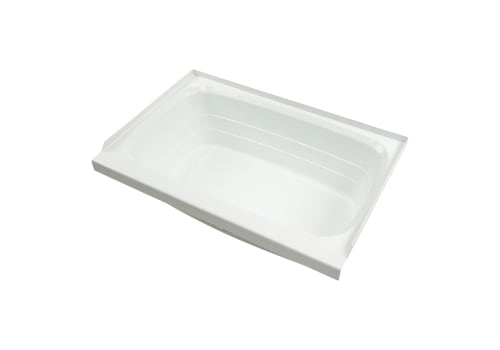 Thermoformed Rear Bath
Lippert offers premium solutions for camper van and motorcaravan bathroom spaces. Our durable, 304-grade stainless steel sinks and faucets are built to last and create a seamless, modern look.