somnum® Collegiate Series
Collegiate Series
Lippert Components produces more than 3,500 mattresses each day. We're well known for manufacturing luxurious specialty mattresses for boats, RVs, residential homes, heavy trucks, hospitality and collegiate housing. somnum is a premium line of specialty mattresses, offering custom sizing, sustainable manufacturing processes and quality craftsmanship.
made with 100% recyclable materialsEnviroSpring™ Mattress
Built with sustainability in mind, somnum's EnviroSpring mattress is durable, comfortable and made with 100% recyclable materials. Perfect for college, university and institutional housing, the EnviroSpring's "Dual-Density" construction allows for both firm support and soft comfort simply by flipping the mattress. The recyclable polymer/fiber core provides all of the comfort of a standard innerspring mattress without the added weight of steel innersprings.
The EnviroSpring's renewable materials are formed through a multi-step process that grinds, sanitizes and reforms the cushioning polymer/fiber core for use in a brand new EnviroSpring mattress, keeping your mattresses out of landfills and helping to save the environment. Our mattress might be blue, but we've made it GREEN!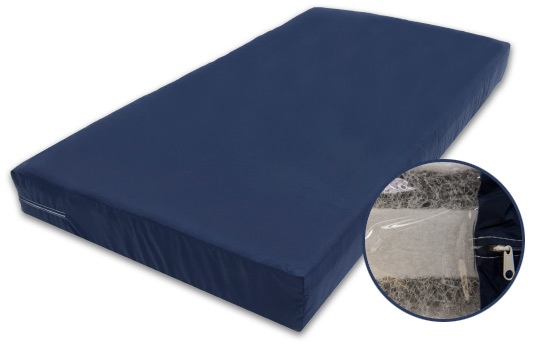 Why EnviroSpring:
When you think recycling, you think paper, plastics, and glass, but mattresses don't come to mind... Until now! We have created the EnviroSpring™ mattress by somnum, designed with both the students and the environment in mind.
Over 300 mattresses arrive at each of America's landfills daily. That's over twenty million mattresses (or the equivalent of 13.5 Empire State Buildings!) thrown out every year. With the EnviroSpring recyclable mattresses, we can greatly reduce the negative effects that colleges and universities have on landfills by minimizing the solid waste produced. As an added bonus, by converting your mattresses to somnum EnviroSpring mattresses, your school could boost its STARS rating while helping to set the status quo in the sustainability movement.
How the program works:
When you place your first EnviroSpring mattress order and register for the Zero Landfill mattress recycling program, you're embarking on an eco-friendly, closed-loop journey that is both cost effective and sustainably driven.
Deliver

Our team will deliver your new EnivroSpring mattresses directly to your campus.

Sleep

Your students will sleep soundly on our eco-friendly mattresses.

Collect

Upon delivery of your next EnviroSpring mattress purchase, our team collects your used EnviroSpring mattresses for recycling.

Recycle

Through a multi-phase recycling process, we deconstruct and salvage 100% of your used mattress's materials.

Refresh & Rebuild

In this final phase of our Zero Landfill mattress recycling program, we combine the recycled materials with virgin materials for the construction of a brand new, next generation EnviroSpring mattress. Ready for the next college delivery.
Eco-friendly materials and zero waste manufacturing processes
Made with 100% recyclable materials
Durable yet breathable polymer material allows for easy maintenance
Mold and mildew resistant
Comfortable and affordable
Dual-Density mattress for multi-comfort, soft and firm options
Water-resistant soft nylon cover with zipper
Provides the support of a steel coil innerspring without the added weight
All somnum collegiate mattresses feature fire safe barriers that meet federal flammability standard 16 CFR 1633, 16 CFR 1632, and CAL 129. Boston Burn options are also available.
somnum's premium ComfortSpring mattress is a dual-sided mattress featuring a durable innerspring core that provides comfort and support for a healthy, restful night's sleep. ComfortSpring mattresses come complete with soft damask covers that feature a special interior coating to prolong the life of your mattress. A quilted top on both surface sides of the ComfortSpring mattress adds an extra touch of comfort. With a built-in insulator pad, the ComfortSpring helps promote a quiet night's sleep.
Perfect for college and university housing, the ComfortSpring's plush foam provides seven inches of comfort and support.
Steel coil innerspring core
Built-in insulator pad reduces sleep disruptions
Soft, light blue damask cover features a special interior coating to increase durability
All somnum collegiate mattresses feature fire safe barriers that meet federal flammability standard 16 CFR 1633, 16 CFR 1632, and CAL 129. Boston Burn options are also available.
All somnum Collegiate Series Mattresses include a three year warranty.