Forest River Adopts Lci Italy Table Mechanisms for 2020 Mercedes Benz Sprinters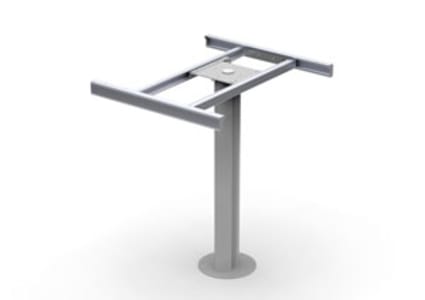 November 20, 2019
Elkhart, Ind. — Lippert Components, Inc. (LCI®) announces today that Forest River, Inc. has adopted the "Planet" four-direction rotating table mechanism for all 2020 Mercedes Benz Sprinter (MBS) Class C motorhomes. The Planet table mechanism was developed by LCI Italy and is part of the "DaVinci Series" product line of moveable and adjustable table mechanisms.
The innovative and versatile Planet table mechanism offers flexibility and space optimization, allowing owners to slide the tabletop in four different directions. The Planet mechanism also allows the tabletop to be rotated a full 360 degrees, providing space on demand for owners. Made of aluminum and composite materials, the Planet table mechanism can be easily adjusted to suit the needs of 2020 Mercedes Benz Sprinter owners.
LCI Italy developed the DaVinci Series, inspired by famed Italian polymath Leonardo da Vinci, to provide flexibility and space on-demand options for smaller spaces. DaVinci Series table mechanisms allow easy tabletop adjustments to be made to maximize interior living space and to provide comfortable dinette options with sliding and rotating functionality.
"We're proud to debut the DaVinci Series table mechanisms within the U.S. market. Our European counterparts are constantly developing innovative new products that we know U.S. consumers will also enjoy," said Andy Murray, LCI's Chief Sales Officer.
In addition to the DaVinci Series of table mechanisms, LCI has introduced several other European-made and European-inspired RV products to the U.S. market, including entry doors, entry door handles, and furniture.
"At Forest River, we believe providing the latest and most innovative concepts to our consumers is of the utmost importance. We know our customers will love the flexibility and contemporary styling of the Planet table mechanism, and we're excited to debut it on our 2020 MBS units," said Kary Katzenberger, Product Manager for all Class C motorhomes at Forest River.
---
With over 90 manufacturing and distribution facilities located throughout North America, Europe, Africa, and Asia, Lippert™ is a leading, global manufacturer and supplier of highly engineered products and customized solutions dedicated to shaping, growing, and bettering the RV, marine, automotive, commercial vehicle, and building products industries, and their adjacent markets. Lippert also serves a broad array of aftermarket segments, supplying best-in-class products designed to enhance recreational pursuits, both on the road and on the water. From powerful towing technology and automated RV leveling systems, to boating furniture and one-of-a-kind shade solutions — Lippert combines strategic manufacturing capabilities with the power of our winning team culture to deliver unrivaled Customer Service, award-winning Innovation, and premium Products to every industry and person we serve.
Lippert
3501 County Road 6 East
Elkhart, IN 46514
Email: marcom@lci1.com