Jason Lippert Named Volunteer of the Year by United Way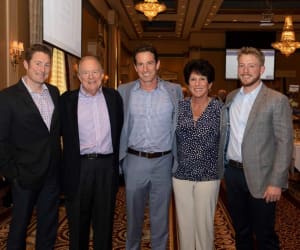 May 11, 2018
Elkhart, Ind. — Jason Lippert, CEO of Lippert Components, Inc. (LCI®), has been named the 2018 Arthur J. Decio Volunteer of the Year. The award, the highest award that United Way of Elkhart County gives out in the community, was awarded to Lippert for his commitment to volunteerism and to helping connect volunteers with nonprofits. LCI is a leading supplier of premium components to the recreational vehicle and adjacent industries. Through Jason's leadership, LCI created the Acts of Service platform to help facilitate the community involvement of LCI team members.
"I'm accepting this award today on behalf of our entire team who've worked hard to drive this effort within our Company and within the community," commented Jason Lippert. "We're trying to lead our people well and impact our community in a way that will be meaningful for the long-term by involving all 11,000 team members at LCI. We know that if we can get every other business involved in the same way and setting their own goals, we can completely change the community and the world we live in."
"Jason Lippert represents what it means to LIVE UNITED. He generously gives, advocates and volunteers to help his community. Great things are happening in our community as result of Jason's passion to help others," stated Bill Reith, President/CEO of the United Way of Elkhart County. "One of the ways he has impacted the community is through establishing Acts of Service. Through this free community service hub, over 100,000 volunteer hours have been invested in the community, impacting over 1000 different organizations and countless individuals. Our community is certainly a better place because of Jason."
This year marked the 5th annual Live United celebration of United Way of Elkhart County. Honorees and supporters gathered for a celebration Thursday, May 3 at The Lerner Theatre in Elkhart.
Pictured: Jason Lippert and Art Decio
---
With over 120 manufacturing and distribution facilities located throughout North America and EMEA, Lippert is a leading global manufacturer and supplier of highly engineered components and customized solutions dedicated to shaping, growing and bettering the RV, marine, automotive, commercial vehicle and building products industries and their adjacent markets. Lippert also serves a broad array of aftermarket industries, supplying best-in-class products designed to enhance recreational pursuits, both on the road and on the water. From powerful towing technology and automated RV leveling systems to boating furniture and one-of-a-kind shade solutions, Lippert combines strategic manufacturing capabilities with the power of our winning team culture to deliver unrivaled customer service, award-winning innovation, and premium products to every industry and person we serve.
Lippert
52567 Independence Ct.
Elkhart, IN 46514
Email: marcom@lci1.com