Jason Lippert Named Volunteer of the Year by United Way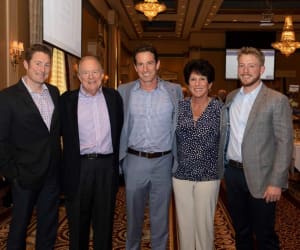 May 11, 2018
Elkhart, Ind. — Jason Lippert, CEO of Lippert Components, Inc. (LCI®), has been named the 2018 Arthur J. Decio Volunteer of the Year. The award, the highest award that United Way of Elkhart County gives out in the community, was awarded to Lippert for his commitment to volunteerism and to helping connect volunteers with nonprofits. LCI is a leading supplier of premium components to the recreational vehicle and adjacent industries. Through Jason's leadership, LCI created the Acts of Service platform to help facilitate the community involvement of LCI team members.
"I'm accepting this award today on behalf of our entire team who've worked hard to drive this effort within our Company and within the community," commented Jason Lippert. "We're trying to lead our people well and impact our community in a way that will be meaningful for the long-term by involving all 11,000 team members at LCI. We know that if we can get every other business involved in the same way and setting their own goals, we can completely change the community and the world we live in."
"Jason Lippert represents what it means to LIVE UNITED. He generously gives, advocates and volunteers to help his community. Great things are happening in our community as result of Jason's passion to help others," stated Bill Reith, President/CEO of the United Way of Elkhart County. "One of the ways he has impacted the community is through establishing Acts of Service. Through this free community service hub, over 100,000 volunteer hours have been invested in the community, impacting over 1000 different organizations and countless individuals. Our community is certainly a better place because of Jason."
This year marked the 5th annual Live United celebration of United Way of Elkhart County. Honorees and supporters gathered for a celebration Thursday, May 3 at The Lerner Theatre in Elkhart.
Pictured: Jason Lippert and Art Decio
---
From over 140 manufacturing and distribution facilities located throughout North America, Africa and Europe, Lippert™ supplies a broad array of highly engineered components for the leading manufacturers of recreational vehicles, automobiles, watercraft and prefab homes. It also operates in adjacent markets, including hospitality, transportation, construction and agriculture. Lippert™ serves a wide range of aftermarket segments, providing high-quality products for the recreational vehicle / caravanning, automotive and marine industries. With over 12,500 team members and a diverse portfolio of best-in-class brands, Lippert™ adopts a team-based business philosophy and has proven that, by putting people first, the possibilities for growth and development are truly endless.
Lippert
52567 Independence Ct.
Elkhart, IN 46514
Email: marcom@lci1.com