Josh Black Named VP of Operations over Lamination and Shade Products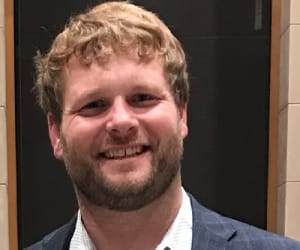 February 1, 2023
Elkhart, Ind. — Lippert Components, Inc. (Lippert™), a supplier of a broad array of highly engineered components for the leading original equipment manufacturers ("OEMs") in the recreation and transportation product markets, and the related aftermarkets of those industries, announced today the promotion of Josh Black as VP of Operations over Lamination and Shade Products.
A native of Mishawaka, Indiana, Josh joined Lippert in February of 2011 as a management trainee for Plant 45. Through the years, Josh has acted as the Assistant General Manager as well as General Manager for several of Lippert's plants including 51, 45, and 58. Most recently, Josh held the position of Regional General Manager over Plants 58, 148 and 163. Josh graduated from John Carroll University in Cleveland, Ohio, with a BS in Business Administration from Boler School of Business.
Josh has spent the entirety of his career at Lippert, managing the operations of several core RV and Marine categories and has witnessed explosive growth in the product lines he is responsible for. Since arriving at Plant 58, he has helped manage growth; revenue for the plant has tripled, entry doors have grown from 1,000 per day to 3,000 per day, RV awnings have grown from 650 per day to 3,000 per day and power biminis have grown from 7,000 per year to 39,500 per year. Behind all this growth is always a great group of product-minded team members including engineers, product developers and sales professionals. The success of these product lines is a true team effort. Josh has also shown great business acumen for integrating new acquisitions, most recently, Challenger Door and Girard.
"I am extremely grateful for the opportunities and mentorship given to me over the years from Lippert giants like Jason Lippert, Ryan Smith and Steve Jenkins, and I hope to offer others the same kind of coaching that they've provided me," said Josh. "I'm really excited for the opportunity to further develop people, our businesses and our products. I really look forward to working with each general manager, aligning our product strategies, further driving our business growth and having a continued impact in the communities in which we serve."
"Josh is a great asset to Lippert, as well as our community, and I am really excited for him to tackle this new opportunity head-on," said Ryan Smith, Group President for Lippert's North American OEM Operations. "Josh has been ascending through the operational ranks for years now, handling every challenge we throw at him with the composure we need from our senior leaders at Lippert. I truly appreciate his consistent leadership throughout the years, and I am looking forward to this next chapter in his career as Lippert's lamination and shade businesses continue to grow to new heights."
Josh resides in Osceola with his wife Brittany and kids Quinlan and Brady. They're actively involved in many youth sports in the area as well as the Ronald McDonald House of Michiana.
Please congratulate Josh on this well-deserved promotion!
---
From over 140 manufacturing and distribution facilities located throughout North America, Africa and Europe, Lippert™ supplies a broad array of highly engineered components for the leading manufacturers of recreational vehicles, automobiles, watercraft and prefab homes. It also operates in adjacent markets, including hospitality, transportation, construction and agriculture. Lippert™ serves a wide range of aftermarket segments, providing high-quality products for the recreational vehicle / caravanning, automotive and marine industries. With over 12,500 team members and a diverse portfolio of best-in-class brands, Lippert™ adopts a team-based business philosophy and has proven that, by putting people first, the possibilities for growth and development are truly endless.
Lippert
52567 Independence Ct.
Elkhart, IN 46514
Email: marcom@lci1.com