Keystones New Sprinter Features Lippert Components Solera Power Awning Awning Lights and Awning Speaker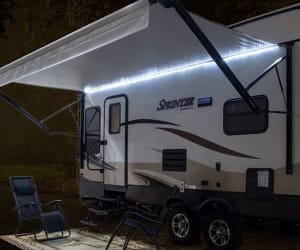 March 25, 2014
Elkhart, Ind. — Lippert Components, Inc. (LCI®) is pleased to announce that Keystone's Sprinter brand now features LCI's Solera Power Awning, Awning LED Lights and Awning Speaker.
"The Solera Power Awning has been very popular with our customers since we began installing it standard two years ago. Customers love that it's so easy to adjust and has simple manual override," said Sprinter Product Manager Josh Miller. "We are excited LCI recently introduced its new Awning Speakers and Lights so we can provide another awesome upgrade for our customers!"
The efficient wall-mounted Solera Awning LED Lights reflect off the coach, providing optimum lighting while utilizing minimal battery power. The patent-pending Solera Awning Speakers are located inside the two awning heads, providing excellent sound quality and directing sound to the campsite.
Andy Murray, LCI Vice President of RV Sales, emphasized that the new speakers simplify installation for OEMs and improve sound quality. "OEMs are tired of working with standard speakers that have to be installed on exterior walls, so customers asked us to design something better," said Murray. "Previously, our customers were limited on speaker placement because they had to hide speaker wiring inside cabinets or find other creative spaces. Our innovative Solera Awning Speakers solve that problem. The awning heads act like speaker boxes, improving and amplifying sound."
Miller believes Keystone Sprinter customers will enjoy these new features. "The LED lights provide better light for the patio so campers can enjoy outdoor fun later into the evening, and the unique speaker placement allows sound to carry down to the campsite rather than above it," added Miller.
Sales Manager Jason Rattray of Alpin Haus RV in Amsterdam, NY, expects the new Solera Awning Speakers and Lights to be very attractive to customers. "Our customers have loved the convenient Solera Awning," said Rattray. "It is the only awning we carry that offers simple manual override, and we feel it's easier to adjust than any other awning on the market. We are very excited to begin promoting the Solera LED Lights and integrated Speakers. Sprinter has been known to make camping easy, and these new Solera features will reinforce that reputation."
LCI's Solera Awnings became very popular soon after they were introduced in 2012. The Solera Power Awning features the industry's first easy-to-access manual override. Users can simply use a power drill to extend and retract the awning in case of power failure. The strong, anti-scuff, anti-mildew fabric is cold-crack protected up to minus 25 degrees and the awning's innovative friction joint allows users to easily adjust the pitch and does not require readjustment before retracting the awning.
---
With over 120 manufacturing and distribution facilities located throughout North America and EMEA, Lippert is a leading global manufacturer and supplier of highly engineered components and customized solutions dedicated to shaping, growing and bettering the RV, marine, automotive, commercial vehicle and building products industries and their adjacent markets. Lippert also serves a broad array of aftermarket industries, supplying best-in-class products designed to enhance recreational pursuits, both on the road and on the water. From powerful towing technology and automated RV leveling systems to boating furniture and one-of-a-kind shade solutions, Lippert combines strategic manufacturing capabilities with the power of our winning team culture to deliver unrivaled customer service, award-winning innovation, and premium products to every industry and person we serve.
Lippert
52567 Independence Ct.
Elkhart, IN 46514
Email: marcom@lci1.com