Leading with Innovation and Quality: Lippert's 2023 Exhibit at Caravan Salon Düsseldorf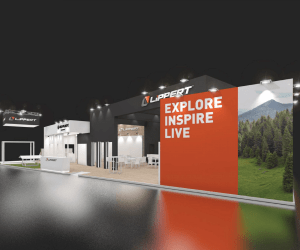 August 7, 2023
San Casciano Val di Pesa (FI) – Lippert Components, Inc. (together with its affiliates, Lippert™), a supplier of a broad array of highly engineered components for the leading original equipment manufacturers (OEMs) in the recreation and transportation product markets and the related aftermarkets of those industries, returns to the Caravan Salon in Düsseldorf with a large exhibition space dedicated to camper and caravan manufacturers worldwide.
From 26th August to 3rd September 2023, the latest generation of motorhomes, caravans and campervans will be showcased in 16 halls. At this 62nd Caravan Salon, Lippert will unveil its latest innovations and caravanning components for the upcoming season and beyond. In addition to the numerous products featured at the stand, such as doors, steps, beds, pop-up roofs, and in-vehicle electronics management and control systems, there will also be a dedicated area called the "Vision Room." This reservation-based space is exclusively designed for Lippert's esteemed customers, offering a display of some of the brand's cutting-edge concepts, along with a presentation of its ideas, plans and visions for the future of international caravanning.
Caravan Salon is the highlight of the year for Lippert in EMEA and undisputedly the meeting point for its customers and guests from all continents. During the ten days of the trade fair, more than 235,000 caravanning fans from 72 countries will be perusing 736 exhibitors from 34 countries in 16 exhibition halls.
This leading caravanning trade fair is where the sector presents its newest products and innovations for the future and sets standards for the quality and diversity of the products on display.
At the 2023 Caravan Salon, Lippert will be introducing multiple new products to the public. Lippert is always working on an innovative future and is allocating resources to finding solutions that will solidify its position as a leader in the caravanning industry. As the future holds more challenges, Lippert is staying a step ahead and anticipating customer needs and preferences with its newest highly engineered and innovative products.
Visit Lippert at Hall 14, Stand C5.
About Lippert EMEA (Europe, Middle East, Africa)
In 2016, Lippert began to focus its attention and resources in the European Caravanning Market acquiring some of the most successful companies in the industry. Headquartered in Tuscany, Italy, Lippert's manufacturing capabilities include entry door manufacturing and lamination, bed lifts, pop up roofs for camper vans, slide-outs, table legs, TV Brackets, bike carriers, entry steps, blinds and flyscreens. Ever advancing in this market, Lippert has also expanded into the Netherlands by acquiring the Dutch Polyplastic group of entities, which specialize in producing window-system solutions for the Caravanning and Equestrian industries and cooling door-system solutions for the Retail industry. Most recently, Lippert acquired the German brand Schaudt, a manufacturer of power management, battery chargers and electronic control systems. In 2023, Schaudt rebranded to Lippert.
As Lippert expanded into the European Caravanning Market, several strategic acquisitions were made in the Global Rail Industry, creating the Lippert Rail Division, manufacturing glass windows and interior furniture for trains. In the Rail Sector, Lippert's continued focus is on highly engineered products and extensive research of innovative solutions, offering these products to vehicle owners, operators, manufacturers and refurbishers, industry subcontractors, authorities and organizations.
Lippert also made a substantial investment in the Global Marine Market with the acquisition of the Lewmar Limited group of entities, industry leaders in hardware, winches, hydraulics, windlasses, anchors, thrusters, steering systems, hatches and portlights that suits every vessel from the smallest day fisher to the largest mega-yacht.
---
From over 140 manufacturing and distribution facilities located throughout North America, Africa and Europe, Lippert™ supplies a broad array of highly engineered components for the leading manufacturers of recreational vehicles, automobiles, watercraft and prefab homes. It also operates in adjacent markets, including hospitality, transportation, construction and agriculture. Lippert™ serves a wide range of aftermarket segments, providing high-quality products for the recreational vehicle / caravanning, automotive and marine industries. With over 12,500 team members and a diverse portfolio of best-in-class brands, Lippert™ adopts a team-based business philosophy and has proven that, by putting people first, the possibilities for growth and development are truly endless.
Lippert
52567 Independence Ct.
Elkhart, IN 46514
Email: marcom@lci1.com