Lippert Components and Reg Announces Its New 10k and 12k Capacity Spring Axle Line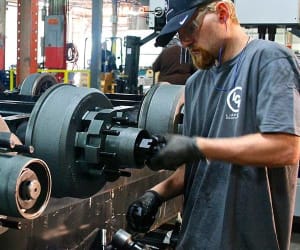 October 22, 2013
GOSHEN, Ind. — Lippert Components, Inc. (LCI®) announces the completion of a new manufacturing line for its 10K and 12K capacity spring axles, adding to its existing line of 2K through 8K capacity spring and torsion axles. LCI's 10K and 12K spring axles are designed for heavy-duty performance applications such as cargo and utility trailers; horse and livestock trailers; and dump and heavy equipment trailers.
Each axle is built by LCI's specially-trained axle team using state-of-the-art equipment to promote precision, safety and efficiency. The ergonomic manipulators used to pick up the hub and drum align the bearings perpendicular to the bearing journals, reducing the risk of damage to the bearing for safe installation. LCI's automotive quality U-bolt torque process uses a precision DC nut runner to ensure accurate U-bolt torque. The integrated flanged spindle design on the 10K and 12k axles are machined true, instead of welded.
"The integrated flanged spindle is a key feature of our 10K and 12K axles," said Vice President of Sales, Manufactured Housing and Specialty Markets, Andy Pocock. "It's designed to prevent brake misalignment commonly caused by welded flanged spindles."
Lippert Components has also designed an automated axle transfer system that moves axles effortlessly, limiting the risk of injury to operators. The transfer system allows axle team members to monitor their hands-on production for quality and accuracy in a safe and efficient manner.
---
From over 140 manufacturing and distribution facilities located throughout North America, Africa and Europe, Lippert™ supplies a broad array of highly engineered components for the leading manufacturers of recreational vehicles, automobiles, watercraft and prefab homes. It also operates in adjacent markets, including hospitality, transportation, construction and agriculture. Lippert™ serves a wide range of aftermarket segments, providing high-quality products for the recreational vehicle / caravanning, automotive and marine industries. With over 12,500 team members and a diverse portfolio of best-in-class brands, Lippert™ adopts a team-based business philosophy and has proven that, by putting people first, the possibilities for growth and development are truly endless.
Lippert
52567 Independence Ct.
Elkhart, IN 46514
Email: marcom@lci1.com