Lippert Components Announces Plant Expansion Groundbreaking Ceremony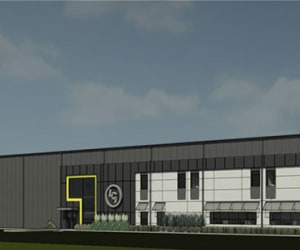 April 20, 2018
Elkhart, Ind. — Lippert Components, Inc. (LCI®) announces today the groundbreaking ceremony for the new Lippert Components beam processing center, located on a ten-acre site within the Lippert Components manufacturing complex in Goshen, Indiana. The groundbreaking ceremony will take place on Monday, April 23 at 3pm EST at 3152 Skyview Road, Goshen, Indiana 46526.
The Company is investing in a 107,000-square-foot, multi-million dollar facility to enhance the manufacture of I-beams that form the framework of nearly every chassis it produces.
"This is a flexible production system that is able to take individual customer orders, match them to the specification required and produce the finished I-beam, ready to be built into a chassis," explained Philip Wiltshire, Director of LCI's Manufacturing Engineering.
Construction of the new beam processing center presents long-term customer and team member benefits, as this new facility is designed, and will be built, to improve safety, quality, and reduce scrap inherent in the production of I-beams for chassis frames.
"I am very excited to be a part of this endeavor, improving efficiencies for the Company, quality for the product, and safety for our team members," commented Robert Shellhamer, Plant Manager at LCI's new Beam Processing Center. "Ultimately, this plant will produce a crucial component used in the RV industry, providing enjoyment for consumers in their leisure time. With this plant, and the associated investment, it is clear to me that LCI is committed to the future in a very big way."
LCI's existing beam related team members will be trained to perform jobs within the new facility, or relocated to other positions within the Company. The plant will contain all new, state-of-the-art equipment to produce I-beams that are then shipped to Lippert Components Assembly Plants to be built into chassis frames.
Lippert Components has embarked upon a Continuous Improvement journey that embraces adopting the best technology for the manufacture of products and also the "Everyone Matters" company mission that empowers LCI team members to both shine at work, in their home lives, and within their local communities.
The groundbreaking ceremony will be held on Monday, April 23 at 3:00pm EST at 3152 Skyview Road, Goshen, Indiana 46526. All press and media are invited to attend this event.
For more information, contact marcom@lci1.com
---
From over 140 manufacturing and distribution facilities located throughout North America, Africa and Europe, Lippert™ supplies a broad array of highly engineered components for the leading manufacturers of recreational vehicles, automobiles, watercraft and prefab homes. It also operates in adjacent markets, including hospitality, transportation, construction and agriculture. Lippert™ serves a wide range of aftermarket segments, providing high-quality products for the recreational vehicle / caravanning, automotive and marine industries. With over 12,500 team members and a diverse portfolio of best-in-class brands, Lippert™ adopts a team-based business philosophy and has proven that, by putting people first, the possibilities for growth and development are truly endless.
Lippert
52567 Independence Ct.
Elkhart, IN 46514
Email: marcom@lci1.com