Lippert Components Canada Named 2016 Regional Winner of Cnesst Safety Award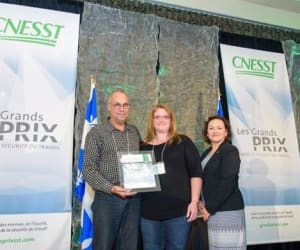 December 19, 2016
Elkhart, Ind. — Lippert Components Canada, Inc., the Quebec-based subsidiary of Lippert Components, Inc. (LCI®), was recently named the 2016 regional winner of CNESST's Workplace Safety Innovation award. Under the category of large corporation in the Yamaska region of Canada, Lippert Components Canada was recognized for their development and implementation of innovative safety protocols for the management of raw materials such as large panes of glass.
As a facility that primarily manufactures windows for school buses and recreational vehicles, LCI's Canadian facility, also known as Plant 73, regularly handles and processes large sheets of glass. After identifying the need to modify the glass dropping process, which involved placing racks of glass sheet into place with a forklift and then dropping the individual sheets of glass onto a CNC cutting table by hand, Plant 73 reorganized and reengineered the process to drastically decrease the risk associated with manually dropping the glass. Employee exposure to forklift traffic was greatly reduced by eliminating the use of a forklift and replacing it with a bridge crane utilizing a tong style lifting mechanism to safely move the racks of large glass sheets. To reduce the potential of glass breakage and shard projections, an automated pneumatic system was engineered, developed and implemented. In addition, the team built and installed guarding around the glass dropping process to protect employees from the glass shard projections in the rare event of a pane breakage.
Akin to the United States' Occupational Health and Safety Administration, CNESST, an acronym for Commission des normes, de l'équité, de la santé et de la sécurité du travail, is the Canadian organization responsible for regulating and promoting the rights and obligations of the workplace within the province of Quebec.
"We are very excited to have earned this award. Workplace safety and the well-being of our employees is always a top-of-mind priority. To have our process improvements recognized by CNESST is an honor, and we are very proud of this achievement," commented Malcom Lapointe, LCI's General Manager of Plant 73.
---
From over 140 manufacturing and distribution facilities located throughout North America, Africa and Europe, Lippert™ supplies a broad array of highly engineered components for the leading manufacturers of recreational vehicles, automobiles, watercraft and prefab homes. It also operates in adjacent markets, including hospitality, transportation, construction and agriculture. Lippert™ serves a wide range of aftermarket segments, providing high-quality products for the recreational vehicle / caravanning, automotive and marine industries. With over 12,500 team members and a diverse portfolio of best-in-class brands, Lippert™ adopts a team-based business philosophy and has proven that, by putting people first, the possibilities for growth and development are truly endless.
Lippert
52567 Independence Ct.
Elkhart, IN 46514
Email: marcom@lci1.com