Lippert Components Hosts Students for Manufacturing Day 2019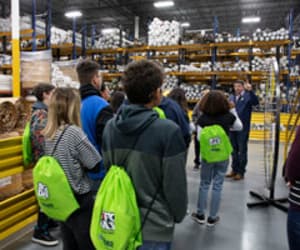 October 15, 2019
Elkhart, Ind. — Lippert Components, Inc. (LCI®) hosted nearly 500 students for Manufacturing Day 2019. Students from Concord, Fairfield, Goshen, Pierre Moran, North Side, and Northridge Middle Schools had the opportunity to tour LCI facilities from October 1 through October 16 as part of Manufacturing Day's nationwide effort to connect with future generations and foster positive awareness around today's manufacturing environment.
LCI Plants 4, 19, 28, 50, 58, 85, and 228W participated in this year's Manufacturing Day. Students were given group tours and had the opportunity to listen to team member success stories, learn about career pathway options within the Company's various divisions and operations, receive educational product line information, learn about safety precautions, and observe product line mock runs.
"Manufacturing Day is a wonderful way to get students familiar with the many career paths that are available within the manufacturing field. It is always such a pleasure to partner with the Horizon Education Alliance (HEA) on this event to make a positive impact on our local area students!" commented April Takach, LCI's People & Talent Acquisition Representative.
Watch a video of Manufacturing Day 2019 by clicking here
About The Manufacturing Institute
MFG Day is organized by The Manufacturing Institute—the education and workforce partner of the National Association of Manufacturers. The Institute drives programs and research to raise awareness, change perceptions about manufacturing and help students translate STEM skills learned in a classroom into fulfilling career opportunities in a growing industry. For more information, please visit www.themanufacturinginstitute.org.
What Is MFG Day?
MFG Day aims to showcase the diverse career opportunities available in the manufacturing industry and connect with America's future workforce—students. Across the country, manufacturers will be hosting students of all ages in their facilities, showcasing our nation's most iconic industry. Last year, more than 80 percent of students said they became more convinced that manufacturing provides interesting and rewarding careers after attending these events. Events large and small will highlight how modern manufacturers are solving tomorrow's challenges today!
---
From over 140 manufacturing and distribution facilities located throughout North America, Africa and Europe, Lippert™ supplies a broad array of highly engineered components for the leading manufacturers of recreational vehicles, automobiles, watercraft and prefab homes. It also operates in adjacent markets, including hospitality, transportation, construction and agriculture. Lippert™ serves a wide range of aftermarket segments, providing high-quality products for the recreational vehicle / caravanning, automotive and marine industries. With over 12,500 team members and a diverse portfolio of best-in-class brands, Lippert™ adopts a team-based business philosophy and has proven that, by putting people first, the possibilities for growth and development are truly endless.
Lippert
52567 Independence Ct.
Elkhart, IN 46514
Email: marcom@lci1.com