Lippert Components Launches New Thomas Payne® Mattress Collection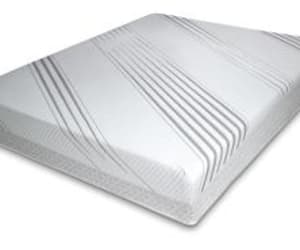 September 10, 2020
Elkhart, Ind. — Lippert Components, Inc. (LCI®) is proud to announce the launch of its new Thomas Payne® Premium RV Mattress Collection.
The Thomas Payne mattress comes into the market as a quality bedding solution that delivers on comfort, coolness, and support. It is part of the Thomas Payne furniture line that is known for providing a wide range of stylish, comfortable furniture that meets the needs of RV owners. The team at LCI had a goal of bringing their customers a better option for anyone looking to upgrade or replace their old or original RV mattress that can oftentimes be thin and uncomfortable.
The Thomas Payne mattress is constructed of a 10" dual foam layer, with the 1" top layer made of 2.2 lb. memory foam infused with charcoal cooling gel. It also comes with a 9" comfort and support base layer made of 1.56 lb. foam. Smart temperature regulating, moisture wicking materials combined with Eco Flex and fiberglass-free mattress barriers also differentiate this mattress from the rest — making it a premium option for a good, cool night's sleep. Available in four sizes: Short Queen, Queen, Narrow King, and King - it is designed for both RV and residential use.
"When we developed this mattress program, what we wanted to do was bring a feature-rich, content-rich mattress to the market that fit the needs of our customers," said Steve Paul, Director of Strategic Business. "We considered a number of factors – comfort, styling, etc. – and carefully considered each one as we worked to agree on a product that is superior in its class."
In addition to delivering a top tier mattress solution, LCI managers also placed an emphasis on cost-effectiveness, convenience, and quality assurance. All mattresses ship compressed and double-bagged in a single package that fits seamlessly through any RV entry door. All mattresses are also backed by a 6-month compression guarantee and 10-year warranty and are easy to install at home or on the road.  
Paul continued, "The Thomas Payne mattress is not just another memory foam mattress. Defined by its gel and charcoal-infused top layer combined with Eco Flex control technology and being 100% fiberglass free, it's a step up at a price point that is simply incredible." 
Thomas Payne mattresses are available now, and an exciting dealer in-store display will be available later this year. Contact your LCI sales representative for additional information.
---
From over 140 manufacturing and distribution facilities located throughout North America, Africa and Europe, Lippert™ supplies a broad array of highly engineered components for the leading manufacturers of recreational vehicles, automobiles, watercraft and prefab homes. It also operates in adjacent markets, including hospitality, transportation, construction and agriculture. Lippert™ serves a wide range of aftermarket segments, providing high-quality products for the recreational vehicle / caravanning, automotive and marine industries. With over 12,500 team members and a diverse portfolio of best-in-class brands, Lippert™ adopts a team-based business philosophy and has proven that, by putting people first, the possibilities for growth and development are truly endless.
Lippert
52567 Independence Ct.
Elkhart, IN 46514
Email: marcom@lci1.com