Lippert Components Leases Cell Tower Space to Bilingual Radio Station Wleg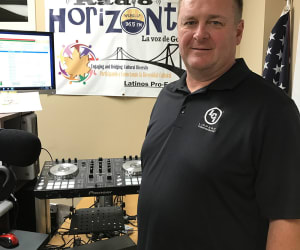 July 18, 2017
Elkhart, Ind. — Lippert Components, Inc. (LCI®) has agreed to lease cell tower space to local nonprofit radio station, Radio Horizonte-La Voz de Goshen. Under the terms of the lease agreement, WLEG will pay LCI $1 per year to lease space on an LCI-owned cell tower located on the grounds of LCI Plant 45 in Goshen, Indiana.
A ribbon-cutting ceremony was held in June to celebrate the radio station's first broadcast, which went live immediately following the ceremony. Goshen city officials joined station organizers for the ribbon-cutting to recognize the station's efforts.
Manuel Cortez of LCI Plant 45 is president of WLEG, which stands for Latino Education Goshen, and has been a major organizer of the nonprofit station whose goal is to help promote the importance of higher education among the Spanish-speaking community in Goshen.
The station's cell tower equipment, a FM low power antenna, was installed in April 2016. With the additional equipment, the station hopes to reach listeners in the Fort Wayne, Elkhart, Bristol, Bremen, and Shipshewana, Indiana markets. Before installation of the additional FM antenna, WLEG's reach was limited to Ligonier, Indiana and a smaller area of Goshen.
WLEG's mission and purpose is to engage and bridge culture diversity in the community. The pro-education platform promotes good citizenship to the youth of the community and wants to help local talent to be recognized with air time. The station is currently run by a ten-person team of volunteers.
"I was impressed with their passion and mission to serve the Latino community ;to bridge the gap between their culture and others and highlight education, service, strong core values, and being a model of what true servant leadership should be," stated Steve Jenkins, LCI's Vice President of Operations.
WLEG can be found at 96.5 FM until they begin using the new antenna, at which point the station can be heard on 104.3 FM.
---
From over 140 manufacturing and distribution facilities located throughout North America, Africa and Europe, Lippert™ supplies a broad array of highly engineered components for the leading manufacturers of recreational vehicles, automobiles, watercraft and prefab homes. It also operates in adjacent markets, including hospitality, transportation, construction and agriculture. Lippert™ serves a wide range of aftermarket segments, providing high-quality products for the recreational vehicle / caravanning, automotive and marine industries. With over 12,500 team members and a diverse portfolio of best-in-class brands, Lippert™ adopts a team-based business philosophy and has proven that, by putting people first, the possibilities for growth and development are truly endless.
Lippert
52567 Independence Ct.
Elkhart, IN 46514
Email: marcom@lci1.com