Lippert Components Makes Friction Hinge Kit Available to Aftermarket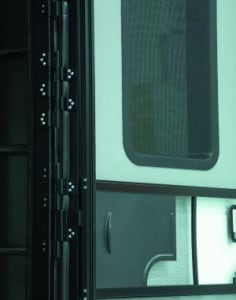 December 17, 2020
Elkhart, Ind. — Lippert Components, Inc. (LCI®) is proud to announce that its Friction Hinge™ stay-put door technology is now available in an easy-to-install aftermarket kit.
The Friction Hinge is a seamless hinge that replaces the standard RV Entry Door hinge and enables the door to stay open in any position, making it the ultimate solution for easily controlling the position of open RV Entry Doors. It is an easy-to-install, durable device that has been tested and proven to handle wind gusts of up to 25 mph, and is compatible with all LCI entry doors as well as several other competing RV and trailer entry doors.
Lippert Components has officially made the Friction Hinge accessible to consumers, so anyone with an LCI Entry Door will have the ability to upgrade their RV's standard entry door hinge to this upgraded, stay-put hinge. It offers a simple installation method that does not require the need to remove the door or existing hinges. The Friction Hinge also eliminates the need for door catches and gas strut installations, and comes equipped with a one-year warranty.
The LCI Friction Hinge operates similar to a laptop computer screen – allowing the RV door to remain in place in any needed position. It is the ultimate upgrade from standard RV door hinges as they oftentimes leave doors vulnerable to slight wind gusts. The Friction Hinge was developed to be a permanent solution and eliminate the need for door catches that can easily break and cause costly damage to the sidewalls of RVs.
"The Friction Hinge gives RV owners an inexpensive, practical option for upgrading their entry door," said Senior VP of Aftermarket Mark Boessler. "Developed as a long-term solution to regulate RV door movements while adding protection and increasing door strength and durability, the Friction Hinge functions with various innovative purposes to RV owners while maintaining simplicity and being user-friendly."
While the Friction Hinge is just now making its aftermarket debut to the general public, it has been installed on complete door assemblies for RV and trailer OEMs for several years. After the success it has brought forth for OEMs, LCI engineers and product managers worked hard to come up with a simple and efficient solution for the aftermarket.
"We thought it would naturally be a good idea to offer the Friction Hinge to the Aftermarket so that end users could add it to their doors and enjoy the benefits of it," said Scott McKinnon, Lamination and Awning Product Manager. "The evolution of the product over the past five years has led to tremendous growth in consumers' trust for it to protect their RV doors from the wind; and with that increase in confidence, the Friction Hinge has steadily become a staple in the RV industry."
---
With over 120 manufacturing and distribution facilities located throughout North America and Europe, Lippert™ is a leading, global manufacturer and supplier of highly engineered components and customized solutions dedicated to shaping, growing, and bettering the RV, marine, automotive, commercial vehicle, and building products industries, and their adjacent markets. Lippert also serves a broad array of aftermarket industries, supplying best-in-class products designed to enhance recreational pursuits, both on the road and on the water. From powerful towing technology and automated RV leveling systems, to boating furniture and one-of-a-kind shade solutions — Lippert combines strategic manufacturing capabilities with the power of our winning team culture to deliver unrivaled Customer Service, award-winning Innovation, and premium Products to every industry and person we serve.
Lippert
3501 County Road 6 East
Elkhart, IN 46514
Email: marcom@lci1.com