Lippert Components Presents Findings of 3d Printing Study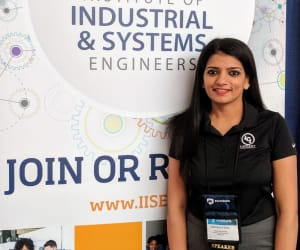 July 25, 2017
Elkhart, Ind. — Lippert Components, Inc. (LCI®) recently presented the findings of a study comparing traditional casting methods with that of 3D printing technologies at the 2017 Institute of Industrial and Systems Engineering (IISE) conference. The study was conducted by LCI Business Systems Analyst, Chitralekha Beniwal, in collaboration with Paul C. Lynch of Pennsylvania State University and Joseph H. Wilck, IV of the College of William & Mary.
The conference publication, titled "Integration of Binder Jet Additive Manufacturing Technology into Metal Casting Industry," was presented as a continuation of Beniwal's Master's research from Penn State University. The study focuses on the need and feasibility of integration of binder jetting additive manufacturing technology into traditional sand foundries, industry output, cost analysis and future scope.
"With future work on integrating this technology into foundries and making it more affordable, the binder jet additive manufacturing technology has the potential to revolutionize the whole metal casting industry," states the study.
Aside from her Master's work with Penn State, Chitralekha Beniwal is a part of LCI's AX implementation team and is currently working to transition the entire company to the same Enterprise Resource Planning (ERP) system. With a supportive team behind her, including LCI's ERP Project Manager Ben Shockey and LCI's Vice President of Business Systems Seth Debriere, Beniwal was able to present her study findings at the 2017 IISE conference during one of the biggest and most crucial software transitions for the company.
"Chitralekha is such a valuable member of the Business Systems team. Her drive, dedication and commitment to LCI and the manufacturing industry have been an asset in so many ways, and we were more than happy to support her academic endeavors," added Seth Debriere.
---
From over 140 manufacturing and distribution facilities located throughout North America, Africa and Europe, Lippert™ supplies a broad array of highly engineered components for the leading manufacturers of recreational vehicles, automobiles, watercraft and prefab homes. It also operates in adjacent markets, including hospitality, transportation, construction and agriculture. Lippert™ serves a wide range of aftermarket segments, providing high-quality products for the recreational vehicle / caravanning, automotive and marine industries. With over 12,500 team members and a diverse portfolio of best-in-class brands, Lippert™ adopts a team-based business philosophy and has proven that, by putting people first, the possibilities for growth and development are truly endless.
Lippert
52567 Independence Ct.
Elkhart, IN 46514
Email: marcom@lci1.com