Lippert Components Slide Out Systems Gaining Steam in Uk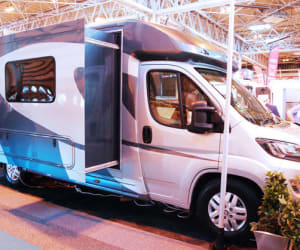 March 25, 2016
Elkhart, Ind. — Lippert Components, Inc. (LCI®), a leading supplier of components for recreational vehicles in the United States and Canada, participated at the Caravan, Camping and Motorhome Show, held between the 23rd-28th of February at the NEC Birmingham, UK. A record breaking 87,589 visitors attended the show, further supporting market trends of increased sales of new touring caravans, motorhomes and caravan holiday homes in the UK. Vehicles equipped with Lippert Components slide-out systems exhibited at the show generated significant interest.
UK motorhome manufacturer Moto-Trek made a strong showing with three Lippert slide-out floorplans in the show and two nominations for the Caravan Club Design awards. "Moto-Trek was the first UK motorhome company to use slide-out technology on the smaller class of motorhomes and has built from its experience over the past several years with the Lippert slideout system into the current extensive range", said Tom Janion, Moto-Trek Managing Director. Larry Revelino, LCI's Director of International Business Development, commented: "Equi-Trek and Moto-Trek were one of our earliest customers to begin adding space to their product with Slide-Out Technology from Lippert Components. Their innovative spirit has led to some very exciting layouts. Throughout the show, the spacious living area created by the LCI kitchen slides, sofa slide, and bedroom slide generated great interest as consumers lined up to view the Moto-Trek layouts."
The real star of the show was the Adria Compact SLS, winner in two categories (Overall Concept Motorhome and Layout) of the European Innovation Award and presented in the UK for the first time. The vehicle, thanks to the LCI Euro Slide system, enables a transverse twin bed layout at under 6m in length. "We started to develop the slide-out technology for the Australian market with a product that is solid, light and simple. This test was very good, and we were confident enough to accept the challenge in Europe" said Matjaž Grm, marketing and sales director at Adria Mobil doo. "We knew that the trend in Europe is for shorter motorhomes, but in a six meter layout there is a loss of functionality. So we tried to find a solution for the long bed, which is the most popular solution in Europe, in a six meters motorhome. The vehicle is very successful: people feel that it is something different and come to see the products in person. While some place orders immediately, there are others who want to know this technology better. We go step by step, even if we are thinking of extending our proposal for the next year with more products."
For more information please, contact Larry Revelino at lrevelino@lci1.com.
---
From over 140 manufacturing and distribution facilities located throughout North America, Africa and Europe, Lippert™ supplies a broad array of highly engineered components for the leading manufacturers of recreational vehicles, automobiles, watercraft and prefab homes. It also operates in adjacent markets, including hospitality, transportation, construction and agriculture. Lippert™ serves a wide range of aftermarket segments, providing high-quality products for the recreational vehicle / caravanning, automotive and marine industries. With over 12,500 team members and a diverse portfolio of best-in-class brands, Lippert™ adopts a team-based business philosophy and has proven that, by putting people first, the possibilities for growth and development are truly endless.
Lippert
52567 Independence Ct.
Elkhart, IN 46514
Email: marcom@lci1.com