Lippert Components to Distribute Over Cab Bed Lift System and Other Products of Italian Manufacturer Project 2000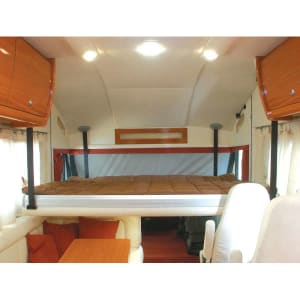 October 23, 2014
ELKHART, Ind. — Lippert Components, Inc. (LCI®) is pleased to announce it has reached an agreement with European RV supplier Project 2000 s.r.l., providing LCI the rights to distribute and sell the products of Project 2000 to the North American market. Project 2000's products include versatile over-cab bed lift systems, power and manual steps and a variety of power and motion products for RVs.
"We are committed to providing premium products to our customers and are excited to work with a high caliber family-owned company in Project 2000," said LCI Chief Executive Officer Jason Lippert. "Project 2000's reputation for developing unique solutions for the needs of RVers aligns perfectly with our mission to enhance the mobile lifestyle."
Project 2000 Managing Director Davide Nardini is pleased with the arrangement and anticipates it will bring his company growth. "We are excited for the opportunity to work with LCI and grow within a market which is fairly new for Project 2000. We are convinced that combining our innovation and quality with the strong market presence and commercial capability of LCI will produce strong results and lead to greater overall customer satisfaction."
In 2013 the Italy-based manufacturer of steps, TV brackets and bed lifting systems won the prestigious Salone del Camper Award in the Accessories and Components category for its innovative and versatile bed left design.
LCI Vice President of RV Sales Andy Murray pointed to the bed lift's inconspicuous design as a key selling point. "Project 2000's euro-style bed lift utilizes a nylon strap-based system that is well-suited for over-cab use in motorhomes. The straps retract into the bed base, concealing the lifting system in the retracted position, permitting OEMs more cab design freedom."
The nearly silent bed lift system is operated by a single motor that controls four support mounts to raise and lower the bed at 2.3 inches per second. The 800-pound capacity system can be customized in both size and configuration to fit almost any motorhome cab design. The system can even "bend" to conform to the curvature at the front of some motorhomes. In addition to the over-cab bed lift mechanisms, LCI will sell powered backrest lifts and a variety of hinged bed mechanisms that provide increased under-bed storage.
LCI Director of International Business Relations Larry Revelino was impressed when he visited Project 2000 last year. "Project 2000 has a creative research and development team and state-of-the-art manufacturing capabilities. We are really excited to be able to bring Project 2000 products to our customers here in the US. Several OEMs are already in the design and prototyping phase with the over-cab bed lift system and some are already in production."
Project 2000 products complement LCI's existing lineup of products including the HappiJac® Bed Lift, Tread Lite® Power Steps and related products. For more information contact LCI Director of Motorized RV Sales Marty McManus at 574-274-4535 or MartyM@lci1.com.
---
With over 120 manufacturing and distribution facilities located throughout North America and Europe, Lippert™ is a leading, global manufacturer and supplier of highly engineered components and customized solutions dedicated to shaping, growing, and bettering the RV, marine, automotive, commercial vehicle, and building products industries, and their adjacent markets. Lippert also serves a broad array of aftermarket industries, supplying best-in-class products designed to enhance recreational pursuits, both on the road and on the water. From powerful towing technology and automated RV leveling systems, to boating furniture and one-of-a-kind shade solutions — Lippert combines strategic manufacturing capabilities with the power of our winning team culture to deliver unrivaled Customer Service, award-winning Innovation, and premium Products to every industry and person we serve.
Lippert
3501 County Road 6 East
Elkhart, IN 46514
Email: marcom@lci1.com