Lippert Components to Host Community Service Day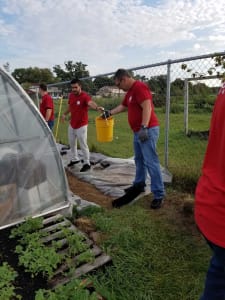 April 24, 2018
Elkhart, Ind. — Lippert Components, Inc. (LCI®) announces that it will host Community Day on Saturday, April 28, 2018. Team members from LCI's facilities around the U.S. will descend upon local parks and public spaces in an effort to continue beautification projects. The Company's team members will perform a variety of community service-related tasks at more than 20 community locations around the Elkhart County, Indiana area.
In addition, all of LCI's plants have designated a community park or public space in which their team members can take part in community service tasks as a part of Community Day.
"It's one way to get out there and show the community that any company can rally its teams together and make a big impact…together," commented Jason Lippert, LCI's CEO.
LCI's 2018 Community Day follows the Company's 2017 outreach initiatives, which included a company-wide goal to volunteer 100,000 hours of community service, two Community Days and a year-long focus on social outreach and humanitarianism.
"What is maybe the most refreshing part of our Community Day efforts is seeing how much pride LCI team members take in helping out in their local communities," said Michilah Grimes, LCI's Director of Philanthropic Partnerships. "Community Day is so special to our team members and to the community members who use these public spaces."
In an effort to help others in the community find service projects LCI created Acts of Service™, a web-platform that allows other community members to take part in the community outreach movement. Since its creation, Acts of Service has registered more than 15 local and national businesses to support the needs of local nonprofits.
---
With over 120 manufacturing and distribution facilities located throughout North America and Europe, Lippert™ is a leading, global manufacturer and supplier of highly engineered components and customized solutions dedicated to shaping, growing, and bettering the RV, marine, automotive, commercial vehicle, and building products industries, and their adjacent markets. Lippert also serves a broad array of aftermarket industries, supplying best-in-class products designed to enhance recreational pursuits, both on the road and on the water. From powerful towing technology and automated RV leveling systems, to boating furniture and one-of-a-kind shade solutions — Lippert combines strategic manufacturing capabilities with the power of our winning team culture to deliver unrivaled Customer Service, award-winning Innovation, and premium Products to every industry and person we serve.
Lippert
3501 County Road 6 East
Elkhart, IN 46514
Email: marcom@lci1.com